Happy 75th birthday, QSO!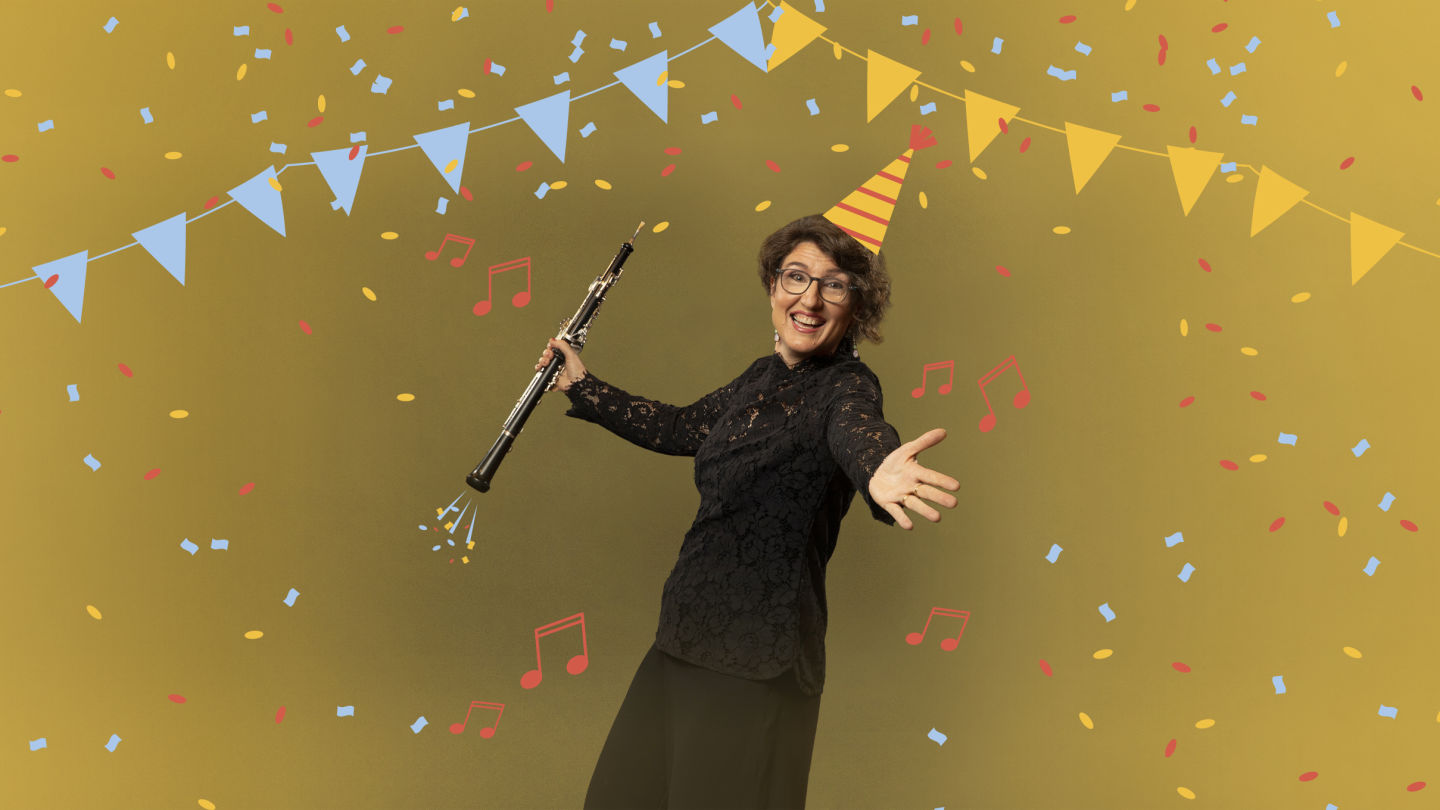 On 26 March 1947, the 45-member Queensland Symphony Orchestra (QSO) performed its debut concert to 2,500 music enthusiasts in Brisbane City Hall under the baton of guest conductor Percy Code. This defining moment marked a new era of music making in Queensland.
Queensland Symphony Orchestra was founded by the Australian Broadcasting Commission, Queensland State Government and Brisbane City Council and in its first year performed 31 concerts. In the second, QSO inaugurated the longest land-based annual concert tour in the world at that time. The company has always believed in sharing the power of music.

Seventy-five years later, the Orchestra has played its way into the hearts of Queenslanders from Mount Isa to Mackay and Townsville to the Tweed, performing in town halls, on open air stages by the sea, in dusty main streets of the outback, school classrooms, remote communities and of course, in its home on stage at the Concert Hall at QPAC.
The program performed at that historic concert in City Hall 75 years ago was Wagner's Overture to Tannhaüser, Grieg's Piano Concerto, Berlioz's Danse des Sylphes and Hungarian March, and Tchaikovsky's Symphony No.6 (Pathetique). Today, the Orchestra performs not only the great classical masterpieces, it commissions and premieres work from Australian composers, revels in performing modern music from the stage and screen, regularly showcases hits from Harry Potter movies to the David Bowie canon and collaborates with beat boxers and story tellers from across the country and across the globe.
Image courtesy of State Library of Queensland
Music is a result of collaboration, and QSO has always been a magnet for international artists. In 1949, the Orchestra welcomed Rafael Kubelik, Elisabeth Schwarzkopf and Otto Klemperer. The appeal has never waned over 75 years with names like Lang, Maxim Vengerov, and Paul Lewis all making the trip to Australia to play in recent years and home grown superstars including conductor Simone Young, pianist Piers Lane, violinist Ray Chen, and Didjeridu virtuoso William Barton similarly welcoming the invitation.
Over 75 years QSO has grown to become Queensland's largest performing arts organisation, home to 74 world-class musicians. This group of people create and deliver unique musical experiences across our huge state, ensuring all Queenslanders can experience the power of live music.
In 2022, the Principal Conductor and Artistic Adviser is the one and only Johannes Fritzsch. Maestro Fritzsch joins a rollcall of extraordinary conductors who have led QSO over 75 years including John Farnsworth Hall, Rudolf Pekarek, Stanford Robinson, Ezra Rachlin, Patrick Thomas, Vanco Cavdarski, Werner Andreas Albert, Muhai Tang, Michael Christie, Johannes Fritzsch, and Alondra de la Parra.
In 2022, Maestro Fritzsch will share the baton with Umberto Clerici, American conductor Jonathan Stockhammer, Music Director of the Auckland Philharmonia Giordano Bellincampi, Israeli conductor, pianist and Principal Conductor of the West Australian Symphony Orchestra Asher Fisch, Swiss-Australian conductor Elena Schwarz, composer and conductor Nicholas Buc, Australian-Chinese conductor Dane Lam, and Benjamin Northey, Limelight Magazine's 2018 Australian Artist of the Year.
Pictured: Patrick Thomas, Warwick Adeney with Sir Neville Marriner, and Michael Christie
Pictured: Vanco Cavdarski, Werner Andreas Albert, and Ola Rudner
Pictured: Muhai Tang, Alondra de la Parra, and Johannes Fritzsch
In 2022, visiting soloists include Australian pianist Daniel de Borah, German cellist Daniel Müller-Schott, Uzbek pianist Behzod Abduraimov, from the UK violin master Jack Liebeck, one of the most sought-after young tenors in the world in Kang Wang, and in a major coup violinist/conductor Guy Braunstein who was the youngest violinist ever appointed as concertmaster of the Berlin Philharmonic.
In 2022, QSO pedestals Australian composers with 20 works programmed - composer and QSO cellist Craig Allister Young's 75th birthday celebration piece will be premiered in the Concert Hall and then featured on tour, Queensland composer Paul Dean's concerto for double bass and orchestra written for QSO's dynamic Section Principal Double Bass, Phoebe Russell will premiere in November, and the Australian premiere of Brisbane-born, Berlin-based composer Cathy Milliken's Piece 43 For Now takes place in August.
QSO has its musical eyes firmly set on the future. The company continues to break new ground with digital connections and delivery platforms, touring and education is ensuring the music-makers of tomorrow are nurtured, and the Health and Wellbeing program is working across both corporate and community sectors to unlock the power of music for the benefit of all.
This is an orchestra that is powered by music and inspired by the state it calls home.
In 1973, Chief Conductor Patrick Thomas established the Modern Music Forum which launched QSO's reputation as a major force in Australian contemporary music. This reputation continues today.
Four years later QSO, with stablemate the ABC, QSO moved to Ferry Road Studios and their first air-conditioned rehearsal studio! Then, in 1985 the Queensland Performing Arts Centre (QPAC) opens, within it, QSO's new performance home in the magnificent Concert Hall.
In 1996, Maestro Muhai Tang conducted a stunning performance of Bruckner's Seventh Symphony, which was later released on CD to international acclaim.
In 2000, QSO began to divest from the ABC, formal merger discussions started between the two Queensland orchestras and in 2001 the newly merged The Queensland Orchestra presented its first concert season.
Two years later, American Michael Christie was appointed Chief Conductor and TQO launched its flagship Maestro series and toured to Japan. Didjeridu virtuoso William Barton became TQO's Artist-in-Residence. In 2004 TQO's recording with William and Michael of music by Australian composer Peter Sculthorpe was nominated for an ARIA.
In 2008, Johannes Fritzsch became Chief Conductor, so beginning a long and highly successful partnership that continues to through to today.
In 2010, the Orchestra changed its name back to the Queensland Symphony Orchestra and two years later moved to the new ABC building on Brisbane's South Bank where it happily remains!
Four years later Johannes Fritzsch finished his first tenure as Chief Conductor and became Conductor Laureate. The next year, American-born, Mexican-raised Alondra de la Parra made her QSO debut, and also made history as the Orchestra's first female Artistic Director. Her first concert was a knockout!
In June 2017, Queensland Symphony Orchestra was honoured as a Queensland Great for its remarkable contribution to the history and development of the state.
In December 2019, after welcoming a roll-call of 44 international soloists, 30 international conductors, 39 Australian soloists and 24 Australian conductors to perform alongside QSO, Alondra de la Parra bid farewell to QSO and relocated to Germany for her next career chapter.
It's here that QSO completes its full circle with the great Maestro Johannes Fritzsch. He was named Queensland Symphony Orchestra's new Principal Conductor and Artistic Adviser in 2019, and remains at the podium, much to the joy of the company.