Vivienne Collier-Vickers
French Horn
Music Chair supported by:
Ms Marie Isackson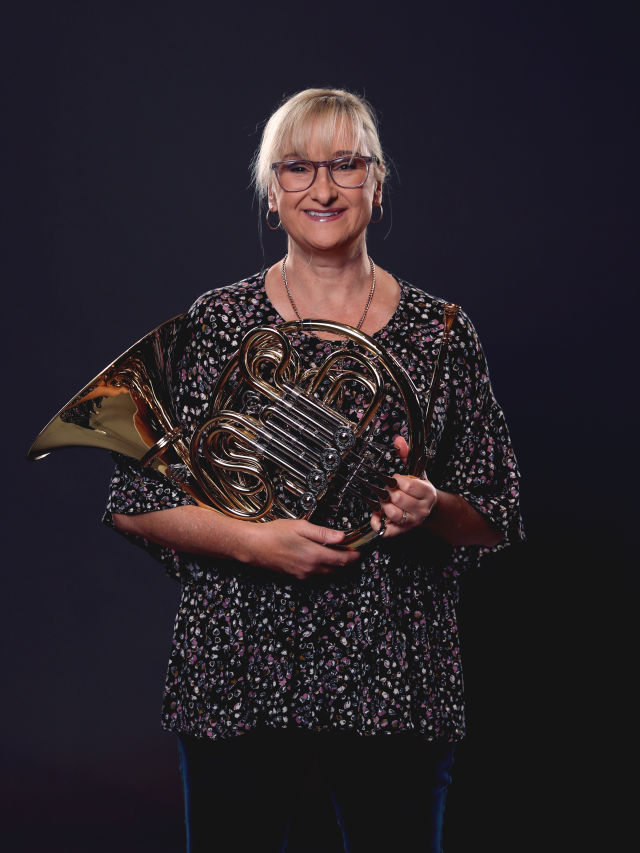 Music has the ability to fire up any emotion at any time. It can excite you or calm you. Most people listen to music almost as a form of therapy for the soul. It transports you to wherever you want to go. Creativity comes in all forms and society is definitely heading in a direction that gives people many more opportunities to be creative in their jobs.
In education, I believe music should be compulsory, particularly playing an instrument.  It has been proven over and over again that it is so good for brain function in kids and the elderly as it exercises all the key learning areas. Even when I retire, I may not play the horn but I will definitely take up another instrument.
Originally from Melbourne, I studied at the Victorian College of the Arts and subsequently in Canberra with Hector McDonald. While studying I worked with the Melbourne Symphony Orchestra, the Orchestra of Victoria as well as recordings for film and television and played in the GTV 9 band for the Don Lane Show and Ernie Sigley show.
During my freelance years, I backed and toured with numerous artists such as Linda Ronstadt under the baton of the legendary Nelson Riddle, Tony Bennett, Frank Sinatra, Electric Light Orchestra, Little River Band and Elton John.
Whilst I play a lot of orchestral music I have always enjoyed playing the 'commercial gigs', and I would say that I listen to more commercial and jazz than orchestral music.  I also enjoy listening to and playing early music.  As a horn player, composers like Mahler, Wagner and Bruckner have exciting parts to play. Although there is nothing to compare with the excitement and thrill of these composers, I also derive great pleasure and challenge from Mozart, especially his operas.
My original intention was to stay a few years in Brisbane then move back to Melbourne however playing full time in an Orchestra, I have found extremely addictive. I was 24 when I joined the QSO and was one of the 'young ones'. Although not quite ready to retire, I truly believe I appreciate playing in an orchestra more now than I ever did. Not many people can say that they play music for a living and love the job they do!
My favourite piece of music
I couldn't possible choose a single piece of music. If I had to narrow it down I would say absolutely anything Mozart, Jean Phillipe Rameau and works like Samuel Barber Adagio for strings always reduces me to tears.