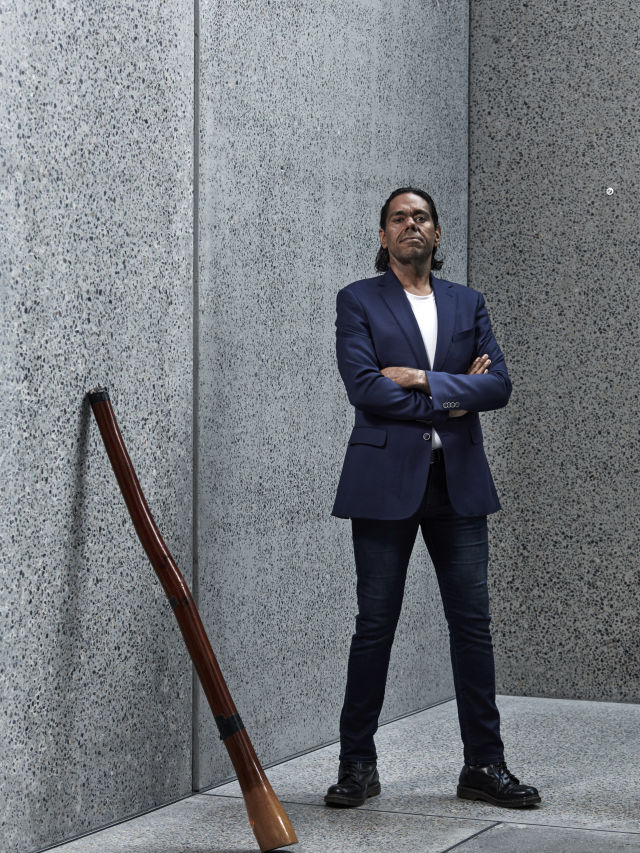 The panoramic sprawl of Australia's Gold Coast skyline is inescapably modern, but the soundtrack is timeless. As William Barton stands atop the Q1 skyscraper in Surfers Paradise with his didgeridoo raised, setting a stunning opening image of the 2018 Commonwealth Games, his life's work as a bridge between cultures has never rung more clear and proud.
On that spectacular night in March 2018, the ancient instrument in his hands blended seamlessly with the Torres Strait hip-hop of Mau Power and the islander folk-pop of Christine Anu. It may seem a long way from the red dirt of Mount Isa or the classical music halls of Europe, but part of William's gift is making them all feel like one big home.
For two decades, William Barton has forged a peerless profile as a performer and composer in the classical musical world, from the Philharmonic Orchestras of London and Berlin to historic events at Anzac Cove and the Beijing Olympics. With his prodigious musicality and the quiet conviction of his Kalkadunga heritage, he has vastly expanded the horizons of the didgeridoo — and the culture and landscape that it represents.

"I grew up on a cattle station just outside Mt Isa in northwest Queensland," he begins. "I started learning the didgeridoo from about the age of seven from my uncle, Arthur Peterson. He was an elder of the Wannyi, Lardil and Kalkadunga people."
His mother — singer, songwriter and poet Delmae Barton — remembers him dancing to Elvis Presley when he could barely stand. He recalls Beethoven and Vivaldi streaming from ABC Classic FM radio, and AC/DC in his cassette player. Through it all, the hypnotic whoop and drone of the didgeridoo wove a common thread in his imagination.
By the age of 12, William was sure enough of his destiny to leave school to concentrate on music. "What I remember so clearly from my uncle is him telling me that the didgeridoo is a language. It's a speaking language and like any language, it's something that you've got to learn over many months, and many years. It's got to be a part of you, and what you do."
After his uncle passed, he says, "I was given the special privilege by his family of holding onto his didgeridoo, which is quite a rare honour in Aboriginal culture because when an old song man passes away, they usually break his didgeridoo into pieces or even throw it out into the fire just to silence the sound forever of that old song man."
At 17, William realised a lifelong dream when he was invited to perform with the Queensland Symphony Orchestra. But the full, rapturous embrace of the classical music world came in 2004, when Tasmanian composer Peter Sculthorpe unveiled his Requiem with the Adelaide Symphony Orchestra and guest soloist, William Barton.
That night, William was invited to join the orchestra in Japan, to perform Sculthorpe compositions Earth Cry and Mangrove. Tours to the USA and New Zealand followed, and the composer and didgeridoo artist cemented a firm creative partnership. "William offered me a new direction," the late composer has said, praising his instinctive musicality and skill as an improviser. "He's almost like a magician … bringing my music home."
Often in the company of Delmae, with whom he has an indelible creative bond, William was soon performing on classical stages from the Vatican to the royal court of Spain. As a wildly passionate electric guitarist and jazz-fusion enthusiast, he has appeared alongside Iva Davies' Icehouse at the Sydney Cricket Ground, and in conservatorium recital with concert pianist Simon Tedeschi.
By the mid 2010s, despite a bare minimum of formal musical education, William had won an ARIA Award for his classical album Kalkadungu, composed a world premiere work for members of the Berlin Philharmonic at Sydney Opera House, and unveiled his first string quartet, Birdsong at Dusk, with the Kurilpa String Quartet and Delmae on vocals.
Today he holds honorary doctorate degrees from the Universities of Griffith and Sydney, and had released five albums on the ABC Classics label. His most recent, Kalkadungu : music for didjeridu and orchestra, features predominantly his own compositions, alongside those of Delmae and Peter Sculthorpe.
"I'm doing what I love. I want to take the oldest culture in the world and blend it with Europe's rich musical legacy," William says. "I guess what I'm doing is giving back: giving back to my culture and my people because I was given something when I was very young and like the old fellas who taught me years ago, I'm just passing it on."