Classic Rock Live
The raw power of classic rock live!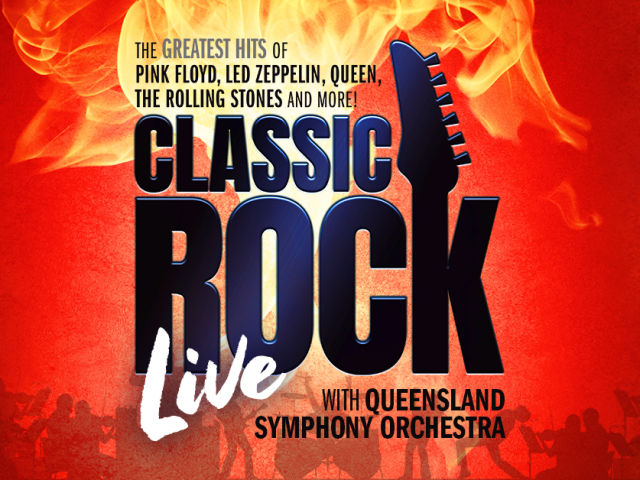 #The greatest rock anthems of all time electrify Brisbane this May in Classic Rock Live!
An explosive concert featuring the iconic music of Pink Floyd, Led Zeppelin, The Rolling Stones, Queen, AC/DC, Meat Loaf, Deep Purple, The Eagles, David Bowie, KISS, INXS and more.
Performed by Queensland Symphony Orchestra, a killer eight-piece rock band and five powerhouse vocalists – Ally Friendship, Virginia Lillye, Peter Millwood, Susannah Mirana and Brydon Stace – Classic Rock Live honours the real sound of rock. Experience the ultimate celebration of the legendary rock masterpieces in a massive musical line-up from the epic Bohemian Rhapsody to the haunting power of Comfortably Numb and the sheer exhilaration of Kashmir.
Classic Rock Live unearths the raw power of the rock masters with over 50 musicians on-stage and conducted by the acclaimed Peter Morris with arrangements by the award-winning Jamie Messenger. The high-octane band and backing vocalists – Andy Byrnes, Miranda Carey, Luke Cuerden, Robyn Loau, Joel McDonald, Dave Molland, Paul Najar and Michael Tan – showcase one of the greatest rock catalogues of all time.
A not-to-be-missed event blasting the roof off the Brisbane Convention & Exhibition Centre for one night only - Saturday 28 May 2022.

All ticket prices are subject to change based on demand. Purchase early to lock in the best prices and your favourite seat.
A one-off handling fee of $7.15 per transaction applies on all purchases. The actual fee may vary depending on the venue and/or method of delivery selected, or where you add other items to your basket. All ticket/item prices displayed for this event are subject to change at any time without notice.
Ticketek is the official ticketing service for Classic Rock Live. Any tickets purchased through unauthorised sales channels may be seized or cancelled without refund or exchange and the bearer of the ticket may be denied admission. Unauthorised sales channels include Viagogo, eBay and Gumtree.