Taking 5 with Diana Doherty
Blog ·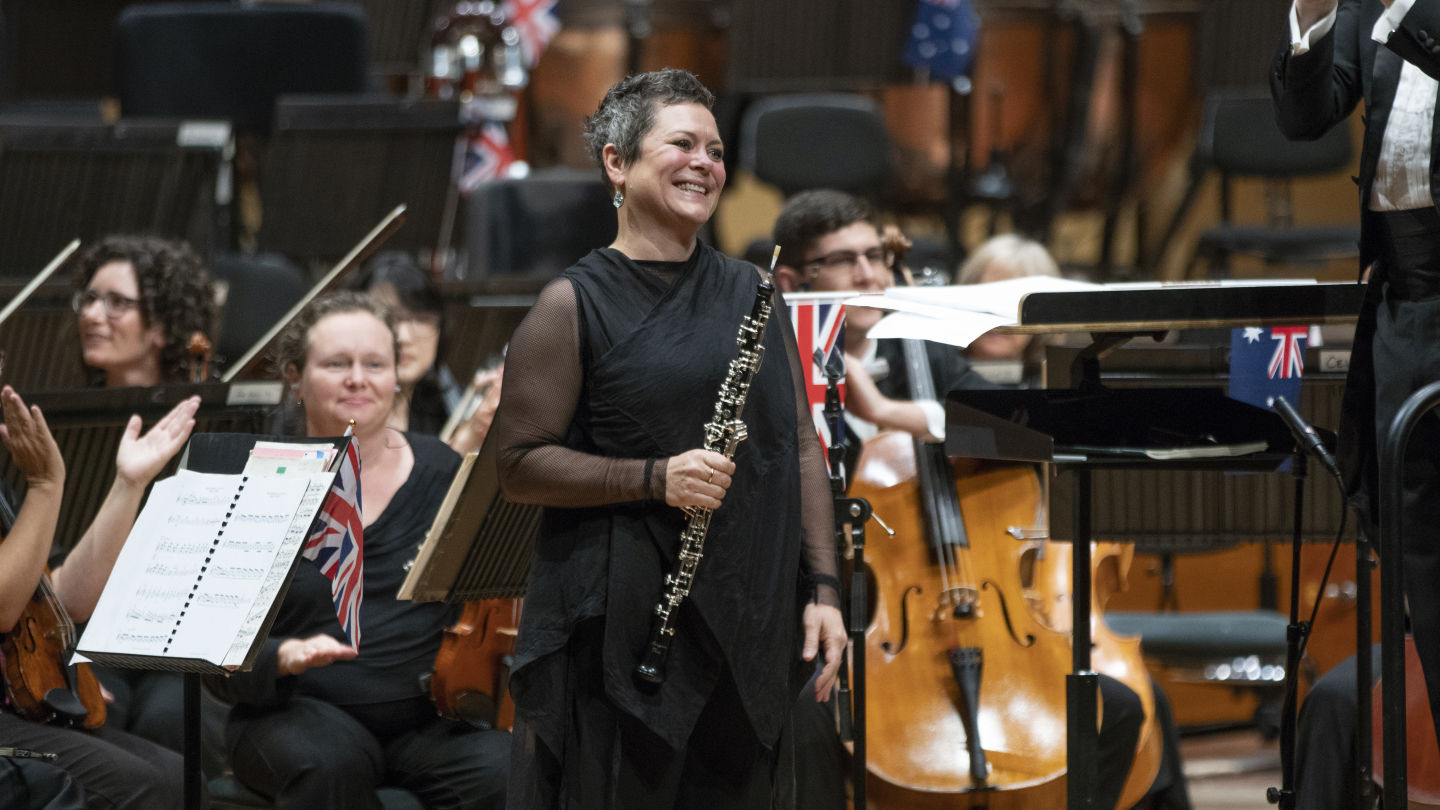 As a soloist, and Principal Oboe with Sydney Symphony Orchestra, Diana Doherty is Australia's queen of the oboe and hails from our own hometown of Brisbane.
From performing dazzling oboe concertos composed just for her, to leading her section in Sydney's orchestra, Diana Doherty is in high demand and we can't wait to welcome her for our 2021 concert, Mozart to Brahms. We caught up with Diana to chat about preparing for concerts, performing new works, and what it was like to grow up in Brisbane.
Learn more about our Mozart and Brahms concert
How long does it take you to prepare for a concert in which you perform as a soloist?
Preparation in the lead up to a solo concert can vary a lot depending on the repertoire. Something brand new (like when I premiered Nigel Westlake's Spirit of the Wild) can take anything up to a year to workshop, learn and hone to a point where I feel I really know it, especially because that preparation has to be done in between all the other commitments in the schedule. Something I know better, like Mozart or Strauss, I would start to think about from about a month before the concert.
The actual day of a solo concert it feels like the whole day is preparation, as it's the concert in the evening that everything is aiming towards. There is usually a rehearsal in the morning, then I'll have a good lunch and a sleep in the afternoon, do something active like a long walk, then get to the hall early to try my reeds onstage before the house opens, get dressed, warm up and focus in the dressing room till it's time to go on. By then it feels like a relief to finally step onstage and be able to actually do the concert!
What challenges do you face playing and performing the oboe?
Reeds! Reeds and temperature changes. The convenience of walking onstage and not playing a note first to check everything is working or being able to warm the instrument a bit before you start the piece can be asking for trouble. Basically, the oboe is a very temperamental instrument and you have to accept that something will go wrong at some point, that's just how it is. The aim is to stay focused and make music through it all, whatever happens.
You grew up in Brisbane. Can you share a bit about what it was like to grow up here? Did you attend Queensland Symphony Orchestra concerts?
Brisbane was a great place to grow up, except for one thing, mosquitos! I loved the outdoor-sy life we had, especially swimming in summer, but I always wished we had fly screens at our house (which we never did). I feel like I must have inhaled a lot of bug spray in those years!
I did attend quite a few concerts with my parents or my aunt, even when I was little. I'd usually sleep in the second half, but then, so did my Dad. His view on it was either he listened to lovely music, or he had a lovely nap - it was win/win!
You've performed a lot of new works composed especially for you. Are you involved in the creative process at all? How does it feel to perform something for the first time?
I love the process of working with a composer on a new piece. It can be a lot of work, but the process varies from composer to composer and is always very interesting. It is scary going on stage to play it for the first time though, wondering whether it will all come together and whether the audience will like it as much as you do. It's a tricky thing judging that balance between pleasing people with something they can relate to but, also creating something new and fresh that will challenge us and make us think.
When you're not playing the oboe, how do you like to spend your time?
If I'm not playing the oboe then I'm usually doing something related to it, like reed-making, teaching, rostering, discussing, planning, programming, attending to admin emails and so on! In fact, it's possible that that side of the job is equally if not more time consuming. But if you mean what do I like to do in my leisure time, then it would be listening to audiobooks, Pilates, yoga, walking the dog, cooking, digging in the vegetable patch and watching arthouse movies.
Diana will perform Mozart's Oboe Concerto in C, K.314​ on Fri 28 + Sat 29 May 2021