Queensland Symphony Orchestra to continue visiting regional Queensland thanks to Australia Pacific LNG
Australia Pacific LNG partnership to continue through 2020
Media Release ·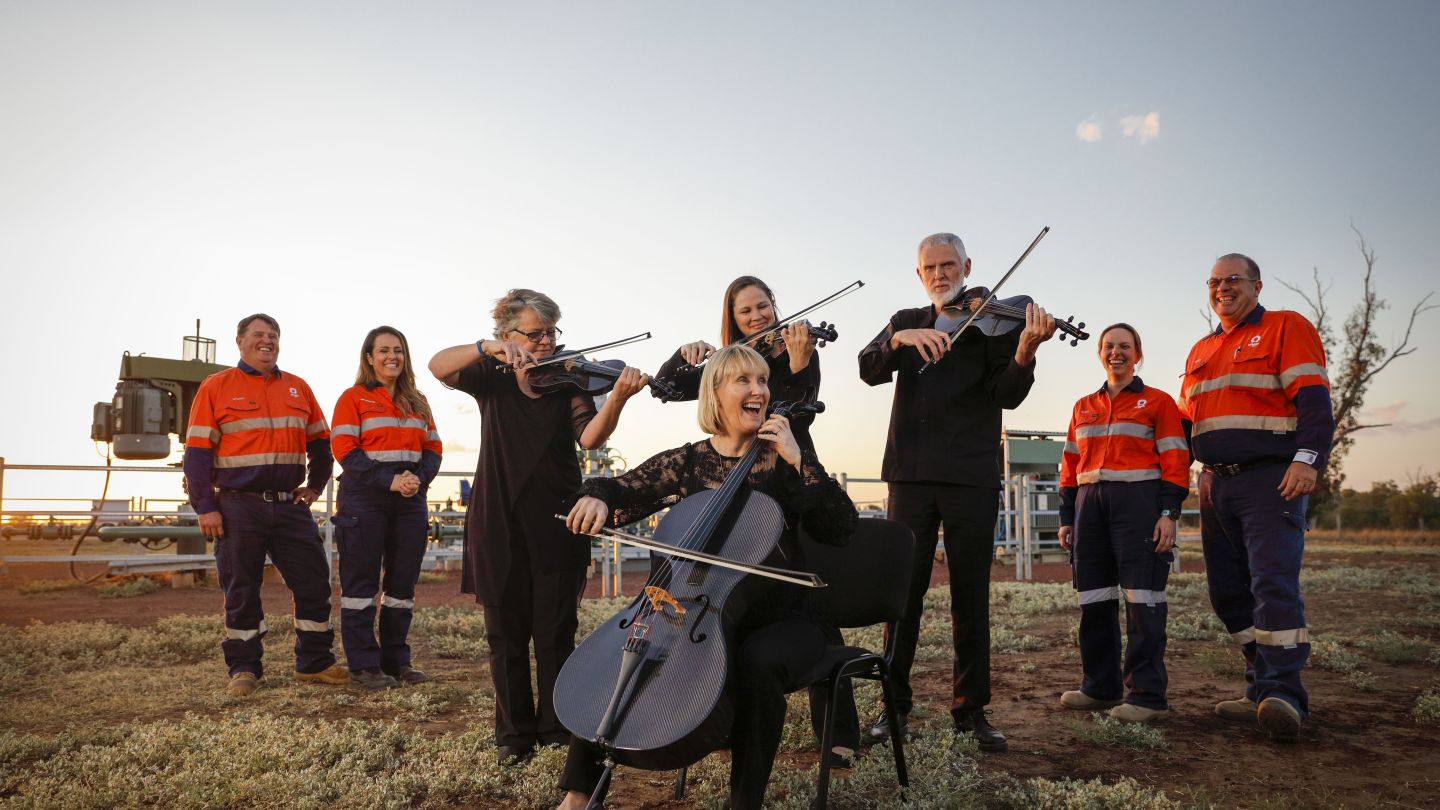 Australia Pacific LNG has announced the continued support for two of Queensland Symphony Orchestra's most vital outreach music programs – the Gladstone Enrichment through Music (GEM) program, and the Chinchilla Miles Roma Enrichment through Music (CMR) Initiative.
Both programs deliver quality music education and concert experiences to the students, teachers and community of regional Queensland, with members of the Orchestra travelling well over 2,000km to do it.
"The GEM Project began in 2012, and the CMR Initiative began in 2016. Since this time, more than 4,507 students have participated in over 110 workshops and performed over 133 concerts to a combined live audience of over 63,000. This is an extraordinary achievement, and testament to the passion for music our students in regional Queensland have," said Queensland Symphony Orchestra Chief Executive Craig Whitehead.
"Working in partnership with Australia Pacific LNG, and its operators ConocoPhillips and Origin Energy, has enabled us to truly deliver on our promise of being an orchestra for every Queenslander, and we pay tribute to their involvement, which to date is close to $2 million."
Mr Whitehead said it was heartening to see the commitment from Australia Pacific LNG, ConocoPhillips and Origin Energy had not altered in 2020. "In fact, our partner is even more passionate about assisting us to develop digital alternatives, as well as live tours for both programs this year. In addition, the CMR Initiative will be extended in 2020 to also include Tara."
Mr Whitehead exampled the 2019 CMR Initiative, "Last year we worked with 12 schools and two community groups including the Maranoa Music and Chinchilla Community Band to perform two Community in Concert performances in Roma and Chinchilla which included the Australian premiere of This House from leading Australian composer Joe Chindamo. The piece was originally written for a performance at Australia House in London in the presence of Prince Charles, however, through the CMR Initiative, regional Queenslanders were amongst the first in the country to hear the piece. What an outcome."
"This would not have been possible with the support of our Principal Partner, Australia Pacific LNG. With their support we can travel and connect with musicians around Queensland."
Australia Pacific LNG Chief Executive Officer Warwick King believes the continued relationship with Queensland Symphony Orchestra is one that promotes multiple benefits to regional communities.
"At the core of Australia Pacific LNG's sponsorship is education and sharing opportunities across communities where we operate. This partnership with QSO enables world class musicians to visit regional Queensland to support local teachers and inspire young students and showcase regional talent."
"We feel it's important that regional students get the same opportunities as those in our capital cities and these students can be part of major music programs and enter serious music pathways no matter where they live."
"Empowering future generations and cementing a passion for music and education is something we are really proud to be part of."
Former Tannum Sands State High School student Rafael Abraham said being a part of one of the early years of the GEM program was something he would never forget.
"As a student who would travel three hours every fortnight for their cello lesson, having Queensland Symphony Orchestra come to my own high school was an entirely unique experience. There is very little opportunity to see a professional orchestra perform, and as someone who always aspired to follow cello and become an orchestral musician, the Gladstone program still sits vividly in my memories," he said.