​"For us the QSO represents great music in harmony with Queensland. Congratulations on this significant milestone."
Her Excellency The Honourable Dr Jeannette Young PSM, Governor of Queensland and Professor Graeme Nimmo RFD, Joint Patrons Queensland Symphony Orchestra
This year, as we celebrate our 75th year as Queensland's State Orchestra, we acknowledge and respect the enormous amount of passion and energy required to keep our orchestra alive. The many people on and off the stage, the patrons, the supporters - you.

There are so many reasons to support Queensland Symphony Orchestra - thank you for being part of this important journey. Please stay by our side and continue to be part of Queensland's history.

Enjoy reading below 75 Reasons from our friends and supporters.

1
"I love QSO as my wonderful workplace of two decades.  The orchestra is a big part of Queensland culture and we can be proud of its achievement - and I'm especially proud to say I have been part of that achievement."
Warwick Adeney, Concertmaster
2
"For ADFAS - Brisbane, being involved with QSO, especially through the Young Instrumentalist Annual Prize, has meant we are supporting the young musicians of Queensland and therefore the future of music in Queensland."
Susie Craig, Chair, ADFAS Brisbane
3
"It has been a privilege and absolute pleasure to have been able to be entertained by the talented members of Queensland's orchestra as they deliver world class music."
Dr Philip Aitken and Dr Susan Urquhart, Supporters
4
"Thank you and congratulations QSO on achieving the magnificent milestone of being Queensland's leader and inspiration in orchestral excellence for the past 75 years."
Associate Professor John Allan, Supporter
5
"I have enjoyed a long association with the orchestra from within. It is a fabulous orchestra, the players have always played with a great sense of connections that rates well with their audiences. They are a very versatile group, having played so many different genres and played them very well. Their immersion in pit work over the last 20 years or more has given them access to a much wider audience, as has their more recent foray into film and other popular music styles. It is vital to ongoing generations to continue to have these experiences."
Jill Atkinson, Former QSO Principal Harp
6
"Music has been integral to mankind since the dawn of time, and to my mind, is the greatest of the Arts. Every city aspires to have a great Symphony Orchestra, and for 75 years Brisbane, and more broadly Queensland has enjoyed the magic of music courtesy of our very own QSO, one of the preeminent music makers of Australia. We are blessed indeed."
Philip Bacon AO
7
"I love how QSO recognises the compelling health benefits that come from music making, and is partnering with organizations and communities to champion a wellbeing agenda for all generations of Queenslanders!"
Professor Brydie-Leigh Bartleet, Creative Arts Institute, Griffith University
8
"QSO my home state orchestra, inspiring the next generation of storytellers through music and their instruments. QSO and I share many memories in the legacy of Australian classical music and what that means to all Australians. From the foundations of our indigenous heritage to the merging of cross cultural collaborations, may the QSO continue to build the relationships with regional and remote Queenslanders through the spirit of music. Please join me in celebrating - Happy Birthday QSO!"
William Barton, Composer, Producer and Multi-Instrumentalist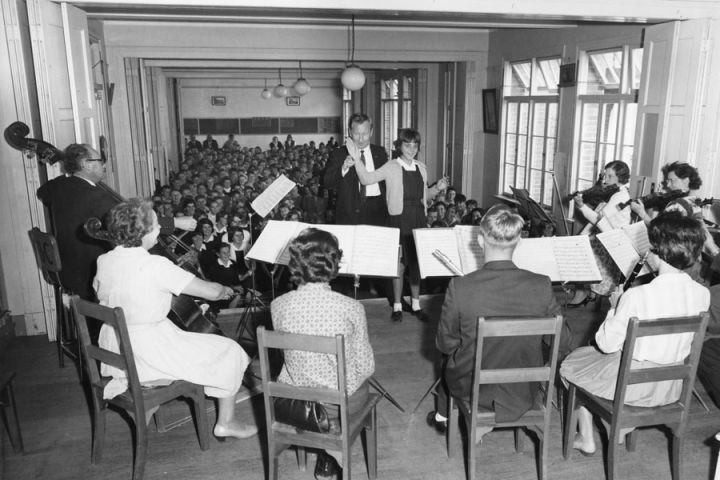 Image courtesy of State Library of Queensland
9
"To the amazing QSO musicians who play so brilliantly for us, we thank you for always lifting our spirits and bringing joy to our hearts with your stunning concerts. Congratulations on your 75th Birthday!"
John and Bonnie Bauld, Supporters
10
"QSO are not just a world class orchestra right on our doorstep, but wonderful musicians we have come to know personally through virtual engagement in recent years."
Dr Julie Beeby, Supporter
11
"Our powerful, passionate, multi-talented, world class QSO deserves 75 more years. In words for our future, my granddaughter, aged 5, text about her first symphony with unicorns, confetti fireworks. QSO has matured from a good regional symphony orchestra when I came to Brisbane in 1980 to a first rate symphony orchestra in the 2020's. I look forward to every concert."
Dr Glenise Berry and Dr Damien Thomson, Supporters
12
"I love QSO because they bring world class performances of incredible pieces of music to the Queensland community in a manner totally consistent with local spirit and culture."
Peter Birtles, Birtles Family Foundation
13
"We've been through difficult times these past two years and QSO has helped get us through and lifted our spirits when we needed it most. More than anything I look forward to my nights in the Concert Hall with QSO which refreshes my soul. I can think of no greater joy than arriving at a QSO concert and looking forward to hearing some of the best musicians in Australia play some of the most beautiful music in the world. To quote the psalmist...QSO 'restoreth my soul' and, to continue the Biblical theme, at the end of every concert 'my cup runneth over.'"
Phil Brown, Arts Editor, The Courier Mail
14
"I love how Queensland Symphony Orchestra continues to foster young talent as well as provide a powerful message of outreach to schools in the area. Can't wait to be back home again!"
Ray Chen, Violinist
15
"I love QSO because there are so many sparkly, slightly mad, very exotic personalities. This is what an orchestra is about, the addition of personalities. This orchestra has a lot of personalities."
Umberto Clerici, Conductor
16
"I was barely 8 years old when I first presented the onstage bouquets at a QSO concert at the Olympia Picture Theatre in my hometown of Gympie, and ever since the QSO and I have never really been apart. I've attended so many unforgettable concerts by them, I've reviewed them, I've worked with them, I've presented and produced live broadcasts and made onstage appearances with them, written their history, profiled their personalities and been Executive Producer on several of their recordings. Even today, more than half a century on, we're still working in the same building together and being mutually thrilled and intrigued by the wonder and the mystery of music. I love QSO like family, because no matter what the ups and downs along the way, inevitably, in the big moments in life, family always end up there for each other."
Dr Martin Buzzacot, ABC Radio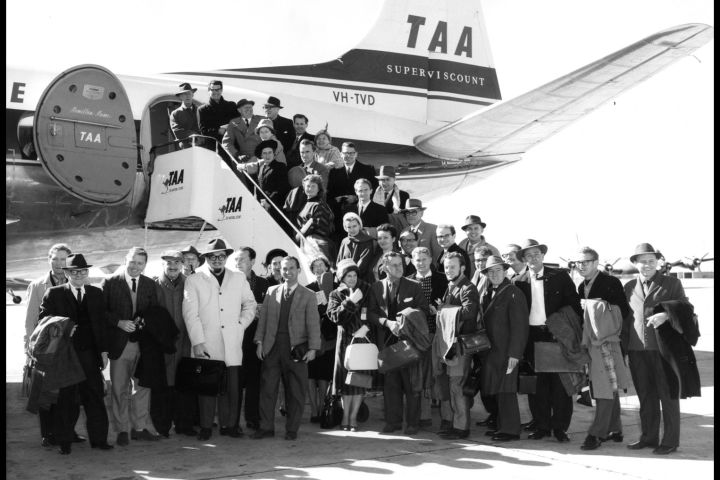 Image courtesy of State Library of Queensland
17
"We love to see our favourite musicians right there in front of us, sharing their energy and love for what they do, it really is the most uplifting and awe inspiring gift! Thank you QSO xxx"
Sarah and Mark Combe, Supporters
18
"QSO is a cornerstone of Queensland's cultural landscape, connecting people and community through music and education. Through our partnership we are proud to support QSO in engaging with regional communities and students."
Khoa Dao, President, ConocoPhillips
19
"Teamwork. You are there for each other. It's inspiring. Joy. Full of love and laughter. Resilience. I have enjoyed dreaming through music together and connecting to our audience."
Alondra De La Parra, Conductor
20
"From the very first time I had the opportunity to play with QSO, I was hooked on music and that was the very moment I decided that I wanted to be a musician when I grew up. QSO have inspired this in me and I can honestly say that their yearly visits to Chinchilla are a huge highlight of my year! To see these musicians perform their craft so perfectly is so encouraging and inspiring to me. I love QSO and want to thank them for the support they've given me on my musical journey."
Grant Dobel, Chinchilla Student
21
"I love the fact the orchestra takes music seriously and does not limit itself to the state capital. QSO encourages amateur musicians, even letting them join the orchestra on stage."
Marianne Ehrhardt, Supporter
22
"I love QSO because it puts a human face to great music in a way that makes everyone feel welcome and included."
Professor Carolyn Evans, Vice Chancellor and President, Griffith University
23
"We love QSO for their engagement with rural and regional Queensland, who regularly miss out on live performances. They also contribute to these communities and schools in a very meaningful way."
Tim Fairfax AC and Gina Fairfax, Supporters
24
"As the Founder of Hear and Say, I know that all children's brain pathways need to be developed so they can learn to listen, understand and speak instantly. Music plays a pivotal role, as the musical pattern of spoken words and sentences is one of the first things that children learn about hearing speech, especially if they have not heard before birth. Furthermore, special music written for preterm babies strengthens the connectivity of their brain networks after birth and can limit potential delays in brain development. I love the QSO story because it offers powerful opportunities for our brains to evolve for our whole lifetime."
Dr Dimity Dornan AO, Executive Director & Founder, Hear and Say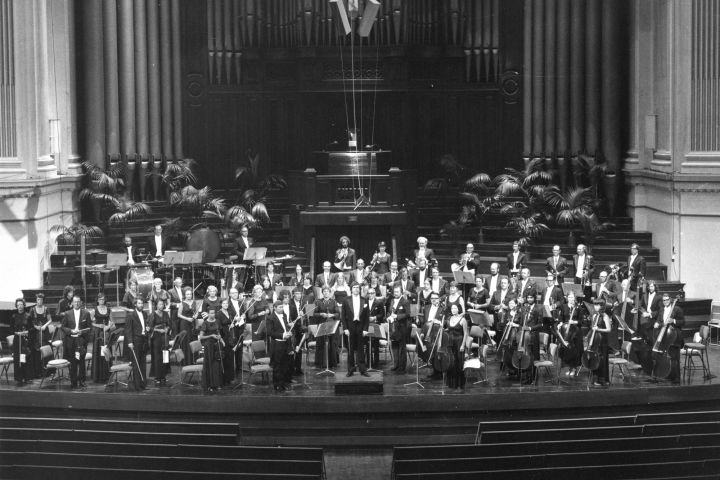 Image courtesy of State Library of Queensland
25
"Music brings us together, heightens
our emotions and stimulates our senses,
and QSO's dedication to delivering
quality performances for this and future
generations delivers consistently
on each of these expectations."
Professor Ian Frazer AC and Mrs Caroline Frazer,
Supporters
26
"When I think about QSO, my emotional response is one of pure joy. The power of their music is often soothing, enthralling, inspirational, unpredictable and exciting - all in one. So the distinguished history of 75 years is testimony to the orchestra's ability to exist through disruptions of war, economic crisis, pandemics and more. The brilliance of QSO survives in adversity and has been and always will be world class."
Chris Freeman AM, Former Chair
27
"QSO comprises dedicated professionals
spreading joy through music. The talented
musicians are dedicated, always working
together as a friendly team striving for their
best performances."
Professor Ian Gough AM and Dr Ruth Gough, Supporters
28
"QSO have been my musical family since I was a student long ago when concerts were still in the City Hall. Since then I've graduated from Student Ticket to 'welded-on' Season Subscriber. Over the decades I've grown to know the Orchestra and to learn through the musical repertoire they've performed. I've enjoyed identifying the musicians on stage from their pictures in the Season Brochures and chatting to them any chance I get after concerts or at open rehearsals. The behind the scenes glimpses through their QSO Facebook posts and newsletters have been vastly entertaining and informative. It's now my delight and my privilege to support one of the talented musicians' chairs and to get to know the whole QSO organisation better. Thank you for being such an important part of my life QSO and bringing me so much delight. Happy 75th Birthday and may there be many more Celebrations to come!"
John and Lea Greenaway, Supporters
29
"There is something very special about seeing the word Queensland in front of the words 'Symphony Orchestra'. And then there's the power of their music! Our QSO has that special power to take you away while holding you transfixed in your seat. That's the power of music."
Dr Pamela Greet, Supporter
30
"Nothing compares with the joy of hearing orchestral music performed live and Queensland Symphony Orchestra rates among the world's best. Its vibrant performances transport its listeners to another dimension."
Malcolm and Andrea Hall Brown, Supporters
31
"The thing that I love most about QSO is their ability to simply bring the joy of music to our students and communities out in rural Queensland. Whether it is through their school workshops or just playing music for our elderly residents who don't get these opportunities often, you will never not see a smile on someone's face whilst they enjoy the musicians' company and expertise."
Danielle Harris, Instrumental Music Teacher,Chinchilla and Miles
32
"From an Australian now living in bonny Scotland, I am sending QSO my very best wishes on their 75th anniversary. You've been a joy for me but can someone please invent instant teleportation?"
Peggy Hayes, Supporter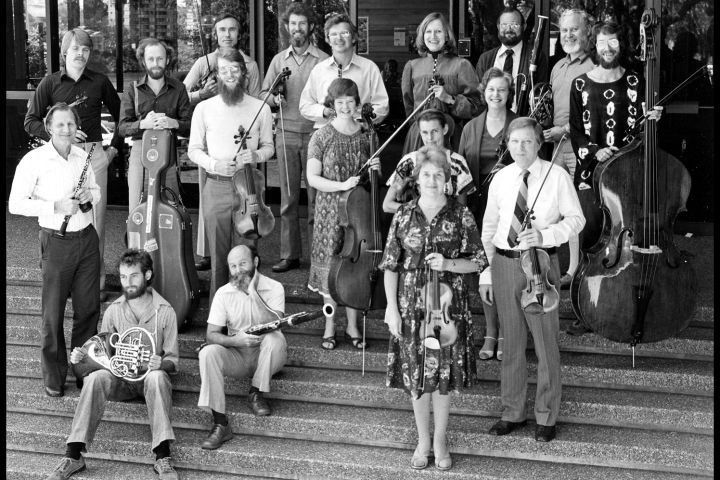 Image courtesy of State Library of Queensland
33
"Dazzling and Delightful. Perfection and Performance. Over many years, QSO has provided us with much joy. We acknowledge its growth and power and commend its engagement in embracing all Queenslanders."
Dr William and Dr Lorna Heaslop, Supporters
34
"It's all about the music - most of which I learned through QSO; and it's all about the people, the professional and personal connections sustained over decades. QSO is a collection of vibrant and exciting energies!"
Roberta Henry, Supporter
35
"As the Executive Director of Queensland Symphony Orchestra I am in a privileged position to have first-hand knowledge of what an extraordinary cultural asset Queensland has in the QSO. The Board, musicians and staff give of their all to deliver live performance - music to power us on."
Valmay Hill, Executive Director
36
"QSO has been an important part of my musical life in Brisbane since as a boy of 15 I would travel into town by bus from boarding school on a Saturday night, buy a cheap ticket at the City Hall box office and then, after the first item, boldly move from my cheap seat up to a vacant A reserve seat right under the noses of, and unchallenged by, the superannuated ushers!"
Michael Kenny, Supporter
37
"We love QSO because music has always 42 been a huge part of our lives and we believe that there is nothing more important than having and supporting our amazing Queensland Symphony Orchestra. We also love the way that QSO has bought music into our city and regional schools, helping to spread the love of music."
Greg, Guy and Kathleen Knopke, Supporters
38
"We all know that QSO is a world class collection of talented musicians, ably led to provide fine musical experiences to a diverse and far flung population. Supporting the Orchestra brings an extra dimension to this experience. Not just the satisfaction of playing a small part in maintaining and expanding this loved institution, but in being invited and welcomed into its extended family. Feeling the excitement and camaraderie in the joy of creativity and music making."
Dr Colin and Mrs Noela Kratzing, Supporters
39
"I grew up hearing the QSO sound, I played with them at 16, my first paid Rach 3 at 19 and they still engage me - of course I love 'em to bits!"
Piers Lane, Pianist
40
"I love classical music and QSO does it beautifully. They present a mixture of old favourites and lesser know pieces. Live music is the best!!!"
Shirley Leuthner, Supporter
41
"Life is busy. We need the love of our friends, family, neighbours and community like never before. This collective feeling of warmth is not unlike what you experience with a QSO performance. It is transformative and inspires me, calms me and warms me all at the same time. There is simply nothing better for our health and wellbeing than to be loved by music."
Dr Robyn Littlewood, Chief Executive,
Health and Wellbeing Queensland
42
"QSO is like belonging to a very musical family. I love the wonderful varied music, getting to know the talented musicians, and the feeling of being uplifted at every concert. They are uplifting! My spirits soar when I hear such marvellous people combine to create the very best of such a wide range of musical experiences."
Stephen Maitland Oam Rfd and Frances Maitland,
Supporters
43
"The future of live music depends on students gaining a love of music and their instruments. QSO gives students and young people an enthusiasm for music."
Maranoa Music
44
"Congratulations QSO on 75 years! It is a joy to witness the Orchestra for Everyone's extraordinary passion for sharing great music with all of Queensland, and in particular in the regions and with young musicians."
Nick Mckenna, CEO, Australia Pacific LNG
Image courtesy of State Library of Queensland
45
"We love QSO because we love music: to watch and listen to our friends bring so much wonderful music to so many people is both an inspiration and a pleasure."
David Miller and Rosslyn Walker, Supporters
46
"I am not a musician and am in awe of how those black notes are transformed into emotional cues for me. I do hope others who have been involved with QSO over time agree that this is a great group of artists that need our support, even at the most important level... sold out seats."
Dr Desmond B Misso Esq., Supporter
47
"My first memories of the QSO go back to my school days at Brisbane Girls Grammar School where I took Music as an extra subject and we would walk down the hill to Brisbane City Hall and listen to such beautiful music. Classical music always sounded so much better when heard directly than when played on my parent's gram-ophone on the farm outside Bundaberg."
Dr Cathryn Mittelheuser AM, Supporter
48
"Obviously, the wonderful music and musicians and also the interesting friendly people who I meet both from QSO and the audience."
CP Morris, Supporter
49
"An orchestra is not really an organization, it is a family. Dysfunctional sometimes, joyous, argumentative, tired, passionate, united by music. I am honoured to be part of the extended QSO family, like the odd uncle who turns up every so often at Christmas. Happy 75th to my favourite orchestra."
Guy Noble, Conductor and Host
50
"When Opera Queensland performs with the QSO we always know it will be prima la musica! Our productions are full of life and colour thanks to their fine music making."
Patrick Nolan, CEO & Artistic Director, Opera Queensland
51
"I love QSO for providing me with a lifetime of cherished musical experiences. I love QSO for being true and authentic and having its own unique voice. I love QSO for bringing so much joy to so many throughout the vast State that is Queensland."
The Honourable Anthe Philippides, Supporter
52
"The 75th anniversary of the Queensland Symphony Orchestra (QSO) celebrates a magnificent milestone in Queensland's musical history. After delighting audiences across our vast state of Queensland, with their passionate performances, QSO today is a remarkable tour de force with a repertoire straddling the modern through to the true classics, with their powerful, intriguing and uplifting music. QSO's partnership with the Harry Potter film series is an amazing journey introducing a whole new audience to orchestral performances. QSO is constantly reinventing itself – it is contemporary, adaptable and current, ensuring today's audiences connect with the music and the performers."
Shaun Mitchell, Brisbane Convention and Exhibition Centre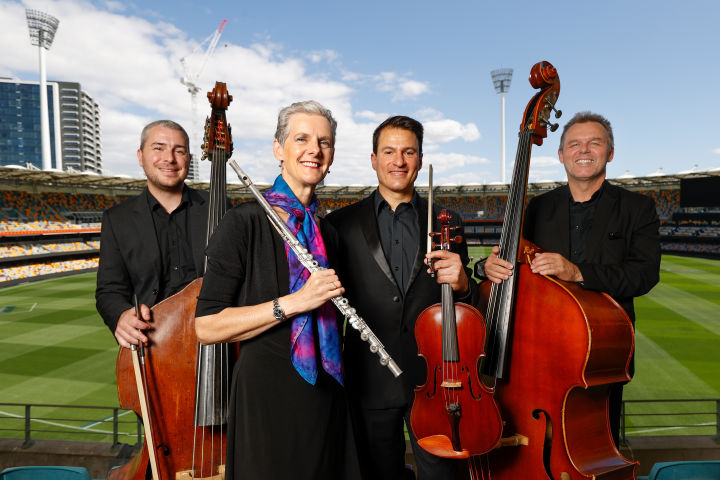 Photo by Michael Wilson, AFL
53
"In a rapidly changing world, well-loved classical music, ably presented live by our own QSO is a solid touchstone to centuries of artistic refinement whilst continuing to carefully evolve and connect with new audiences in the 21st Century."
Rod Pilbeam, Deputy Chair
54
"I love QSO as it represents a synthesis of skill, passion and talent coming together to bring joy and happiness to those who hear the music. And that iconic music is enjoyed by so many diverse people across Queensland. Happy Birthday QSO!"
Fraser Power, Stakeholder and Advocacy Manager,
Australia Pacific LNG
55
"Music is a gift of giving, and QSO is the greatest giver. Music is my solace. QSO is that to me. The orchestra gives me sheer joy. I am proud to have been a part of the QSO family for many years."
Heidi Rademacher, Supporter
56
"From its inception, the Queensland Symphony Orchestra has brought the joy of music through electrifying performances to Queenslanders everywhere. This is an orchestra as much at home on our majestic Concert Hall platform as it is on an outdoor stage whether in the State's west or far north. The QSO's commitment to bringing international talent and remarkable collaborations to the stage is matched by a genuine passion for grassroots community and regional engagement. Our warmest wishes to all at QSO and all who have come before to build this acclaimed orchestra into the Queensland cultural institution that it is. Happy 75th anniversary QSO, from all at QPAC."
Prof Peter Coaldrake AO, Chair & John Kotzas AM, Chief Executive QPAC
57
"John and I have loved Queensland Symphony Orchestra from the time we moved here from Sydney eleven years ago. Watching it grow in confidence to where it is today as one of the truly great World Orchestras. The remarkable work of Maestro Johannes Fritsch in working with the musicians to realise their potential. It is a feeling of mutual love and respect. When the rest of the world was still reeling from Covid-19, we were lucky enough to re-open the doors of QPAC last February 2021, we have never felt such a 'frisson' in the Concert Hall, the excitement was palpable. The audience and the Orchestra so happy to come together after such a long time."
John B. Reid AO and Lynn Rainbow Reid AM, Supporters
58
"There is nothing more thrilling and exciting than to hear a live orchestra playing one of your favourite pieces of music. QSO has a sound of its own, hearing it live and allowing your whole body to absorb the sound right through to your heart. The mastery and skill you hear, where you get goose bumps and eyes watering up - even on the happiest pieces of music. We have such a wonderful gift here in Queensland, the Queensland Symphony Orchestra and I am proud to say we are part of that family."
Graeme Rosewarne and Jim O'Neill, Supporters
59
"Our musicians in Our orchestra take their music extremely seriously but they don't take themselves too seriously. Their music burrows into the hearts of all Queenslanders. They and their music are very easy to love."
Dr Graham and Mrs Kate Row, Supporters
60
"There's so much to love about the Queensland Symphony Orchestra that 75 reasons simply doesn't seem enough! From Four Seasons to Symphonic Santa, the orchestra's jampacked 2022 program demonstrates the depth of world-class musicians that we're lucky enough to have right here in Brisbane. The Queensland Symphony Orchestra showed just how much they're an integral part of our community during the COVID-19 pandemic through their musical covers via Zoom performances which brought joy to so many people during a difficult time. The orchestra's 75th anniversary deserves a standing ovation and I want to congratulate each and every member of this wonderful team."
The Right Honourable, the Lord Mayor of Brisbane, Councillor Adrian Schrinner
61
"Nothing beats the look on the face of a child who is hearing orchestral instruments for the first time! I particularly love our QSO visits to regional Queensland."
Alan Smith, Associate Concertmaster
62
"We love Queensland Symphony Orchestra music and musicians as each performance takes us on a different journey that touches the soul and awakens all the senses."
Scott Smith, CEO, Council of Mayors
63
"There is a fantastic synergy between our organisations - a great business is similar to an orchestra and to perform exceptionally everyone must play their part."
Steven Sorbello, Managing Partner, BDO
64
"We always leave the Concert Hall uplifted and happy after a QSO Concert, and especially after the Sunday Concerts."
Trevor St Baker AO and Judith St Baker, Supporters
65
"Since 1947 our talented and dedicated musicians have brought to life the music we love. Congratulations QSO; may you go from strength to strength for the next 75 years!"
John Story AO and Georgina Story, Supporters
66
"I love being a Music Chair Supporter for two musicians. Makes me feel like I'm part of the orchestral team."
Alan Symons, Supporter
67
"Congratulations QSO on 75 years of exceptional music making. You have taken the most wonderful music to the great state of Queensland in an extraordinary manner. I congratulate all of your past and present members on your commitment to excellence, and on this auspicious occasion I salute you. With admiration and respect."
Lyndon Terracini AM OSI, Artistic Director,
Opera Australia
68
"Born of the determination of a few early Queenslanders, the QSO is both a cornerstone of our state's music culture and a living example of the enrichment music provides us."
Professor Deborah Terry AO, Vice Chancellor and
President, University of Queensland
69
"The Queensland Symphony Orchestra has been a companion on my classical music journey since the late 1960s. So many highlights come to mind – the new music concerts under Patrick Thomas, the production of Shakespeare's A Midsummer Night's Dream with QSO conducted by Johannes Fritzsch, Werner Andreas Albert introducing us to lesser known works and the orchestra's performances of the great concertos, symphonies and in the pit for ballets and operas. Thank you QSO."
Gary Thorpe, 4MBS
70
"QMF has loved collaborating with QSO over the years to deliver extraordinary music experiences across our great state. There is nothing more thrilling than the power of a live orchestra in performance, and QSO always delivers. I look forward to another 75 years of beautiful music and memorable concert experiences."
Katrina Torenbeek, Queensland Music Festival
71
"One of QSO's founding members, violinist (and my neighbour) Vera Wade, introduced me to concert going as a schoolboy. We went off in her VW to the City Hall Prom Concerts, where many of my age had their love of music ignited. Wonderful evenings with Arthur Fiedler, Willi Boskovsky, and many more. A deeply meaningful QSO journey for me since, for 50 of their 75 years. Outstanding conductors - Thomas, Albert, Tang, Fritzsch. The players heading north in the train - taking music to the regions. The mentoring of so many young musicians.
You're a Queensland treasure QSO!"
Ian Walker, Queensland Youth Orchestra
72
"I first went to a QSO concert when I was 13. The Orchestra has been part of my life ever since. Their sublime music brings comfort and joy. When my son lived in London, so far away, I shed tears when they played A London Symphony by Vaughan Williams."
Janine Walker AM, Chair, Metro South
73
"I love that QSO is a maturing orchestra. It's been a pleasure to see them grow over the last 35 years since I moved to Queensland. It's wonderful to sit and see the teamwork and the personality come out of the musicians."
Arthur Waring, Supporter
74
"Each performance provides a real sense of peace and a safe place to switch off and to let one's mind wander as we are all wonderfully serenaded."
Jennifer Whybird, Supporter
75
"I love QSO because of what we bring to the Queensland community. It's a privilege and an honour to be part of an arts organisation and to share our deepest love of music to all over Queensland."
Natsuko Yoshimoto, Concertmaster
Queensland Symphony Orchestra Pty Ltd (ABN 97 094 916 444)
The Queensland Symphony Orchestra Fund is a tax-deductible fund listed on the Australian Government's Register of Cultural Organisations maintained under Subdivision 30-B of the Income Tax Assessment Act 1997.