David Montgomery
Section Principal Percussion
Music Chair supported by:
Dr Graham and Mrs Kate Row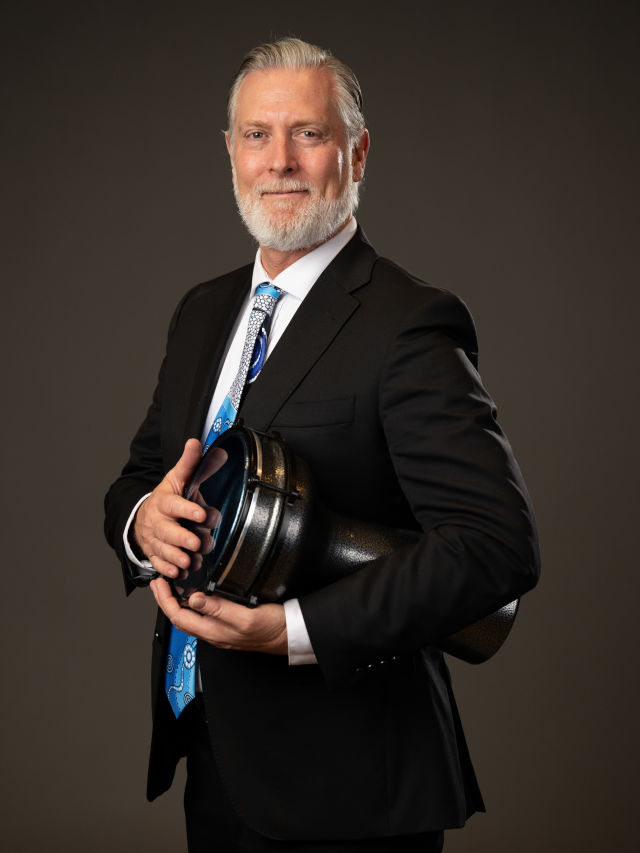 David Montgomery has been Section Principal Percussion of Queensland Symphony Orchestra since 1994 and Principal Percussion of the Australian World Orchestra since 2011.
He spends his time between performing, composing and teaching.
As a composer, he has been commissioned by Opera Queensland, Queensland Symphony Orchestra, Isorhythmos and ABC Radio National. David has also worked as a sound designer and composer for Queensland Theatre and La Boite Theatre. In 2019, Queensland Symphony Orchestra commissioned a new version of Fergal Onions, a musical setting of Australian author-illustrator John Harrison's book of the same name with Eugen Gilfedder as actor-narrator.
David has a keen interest in teaching and pedagogy. In 2013 he completed work on a new percussion syllabus for the Australian Music Examinations Board. He was a finalist in the category of Award for Excellence by an Individual in the 2014 APRA Art Music Awards for this work.
David is the Artistic Director of Isorhythmos percussion ensemble and editor of Isorhythmos Publications. The ensemble comes together on a project by project basis.
In 2018, David began teaching at the Universtiy of Queensland. He is an active and passionate educator, working regularly within the school environment conducting workshops and performance programs in Brisbane and throughout regional Queensland.
Queensland Symphony Orchestra regularly programs David's works featuring the percussion section – Drub II for 5 drummers, Mbadumba for 4 percussionists on African drums, On The Promenade and Boneheads for solo xylophone and orchestra, Jiayuguan Marimbas and Sleepless Ground marimba duets, and most recently a new arrangement of Bartok's Six Dances in Bulgarian Rhythm coupled with Six Bulges in Dancerian Rhythm for percussion trio.
David's next commission is for the QSO brass and percussion sections to open the first concert of 2023 with newly appointed Chief Conductor Umberto Clerici. He has also recently completed three new works for QSO's Connect Ensemble featuring the xylophone, vibraphone and snare drum as solo instruments.
As a soloist David performed the Australian premiere of Joseph Schwantner's percussion concerto, the first performance of Gerard Brophy's Trance Dakar written for him after a study trip to Senegal with master drummer Aly N'Diaye Rose, and Ney Rosauro's Marimba Concerto No.1.
David has performed with the Kanazawa Orchestra, Sydney Symphony, West Australian Symphony, Opera Australia Orchestra, Australian Chamber Orchestra, Australian Brandenburg Orchestra and Australian World Orchestra.