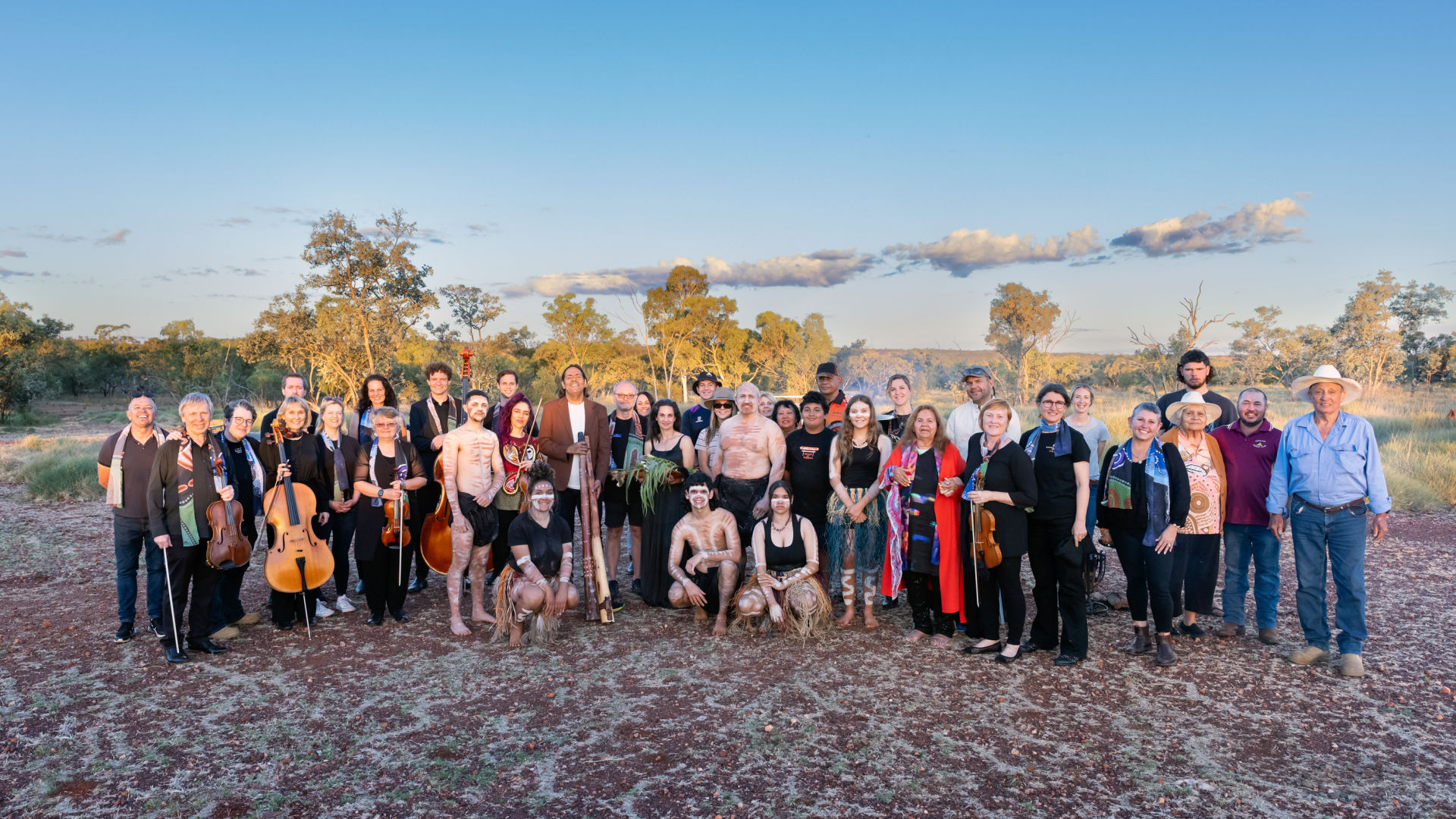 ngatji patija; kutu patija; ngata waru

Songbook: My Story; Your Story; Our Journey

Acclaimed First Nations musician, longtime Queensland Symphony Orchestra (QSO) friend and the world's foremost didgeridoo player, William Barton has partnered with the Orchestra in an extraordinary new project which seeks the next generation of storytellers and song-makers to collaborate and express a Song to Country. Warrma piipa ngatji patija; kutu patija; ngata waru (Songbook: My Story; Your Story; Our Journey) is a unique and ambitious multi-year, multi-artform project that weaves stories, language, song, music and creative expression into a cross-Queensland Journey composition. This Journey commenced in William Barton's ancestral Country of Mount Isa/Kalkadoon last month where Ceremony was held to open the collaborative circle with QSO. It will continue with William and the QSO visiting communities including Cairns/Yarrabah, Rockhampton/Woorabinda, Gold Coast/Yugambeh, Charleville/Bidjara, which is William's Mother's Country and finally, to close the circle of the Warrma piipa (Songbook), Ceremony back in Mt Isa/Kalkadoon.

Storytelling
Oral traditions affirm Aboriginal perspectives and Torres Strait Islander perspectives about the past, present and the future. Since the beginning of time, the reservoirs of First Nations' ancestral knowledge and experience has been passed down the generations. This knowledge includes historical stories, educational stories, and the stories of Country, creation and tradition. They were carried from past to present using various mediums, such as message sticks, rock and sand art, body painting, song, dance and carvings. More recently, First Nations peoples have reclaimed the storytelling authority for their own stories, histories, and perspectives, which are being expressed through the visual and performing arts, songs, multimedia and literary expositions.
𝐧𝐠𝐚𝐭𝐣𝐢 𝐩𝐚𝐭𝐢𝐣𝐚 (𝐌𝐲 𝐒𝐭𝐨𝐫𝐲)
My Story is centred around William Barton, a Kalkadoon mans amazing life journey from childhood being taught the didgeridoo or Yidaki from is family line. At age 17, William realised a lifelong dream when he was invited to perform with the Queensland Symphony Orchestra (QSO). Further partnerships with the Orchestra grew, involving performances, recordings and seen new works written for and by William, including Apii Thatini Mu Murtu (To sing and carry a coolamon on country together) in 2021.

𝐤𝐮𝐭𝐮 𝐩𝐚𝐭𝐢𝐣𝐚 (𝐘𝐨𝐮𝐫 𝐒𝐭𝐨𝐫𝐲)
When exploring Australians' engagement with and attitudes towards the arts it was found that more than one in three Australians connect with, and share, their cultural background through arts and creativity.1 A supportive and safe environment will underpin the open dialogue and storytelling process for participants. Who are you? Where are you from? What is your passion? Sharing story is a powerful knowledge transfer tool, informally teaching and sharing knowledge and experience for participants to hear and learn from. It enables dreams and aspirations to be carved into the landscape.

𝐧𝐠𝐚𝐭𝐚 𝐰𝐚𝐫𝐮 (𝐎𝐮𝐫 𝐉𝐨𝐮𝐫𝐧𝐞𝐲)
Empowering First Nations arts workers to achieve their full potential. There are many ways First Nations and Western ways of knowing can work together collaboratively and respectfully to better understand Australia's past and future needs. Our journey opens the door to mentoring and development opportunities for arts workers in their chosen field. Ultimately creating a woven tapestry of opportunities and pathways within QSO and the arts.
Message sticks have played an important part in communication between Aboriginal groups across the immense Australian landscape. Message sticks are a form of communication between Aboriginal nations, clans and language groups. Traditional message sticks were crafted from wood and were generally small and easy to carry (between 10 and 20 cm).

They were carved, incised and painted with symbols and decorative designs conveying messages and information. They always included marks that were distinctive to the particular group or nation sending the message and often marks identifying the relationship of the carrier to their group. This way it could be identified and authenticated by neighboring groups and by translators when the message stick was taken long distances.

The Warrma piipa (Songbook) ngatji patija; kutu patija; ngata waru "My Story; Your Story; Our Journey," Message Stick is a modern representation with additional technical applications embedded to enhance capturing each community's contribution to the project (USB Stick) and tracking the Warrma piipa (Songbook) ngatji patija; kutu patija; ngata waru "My Story; Your Story; Our Journey," (GPS Tracker).