A Life in the Orchestra
By Principal Harp of 46 years, Jill Atkinson
Blog ·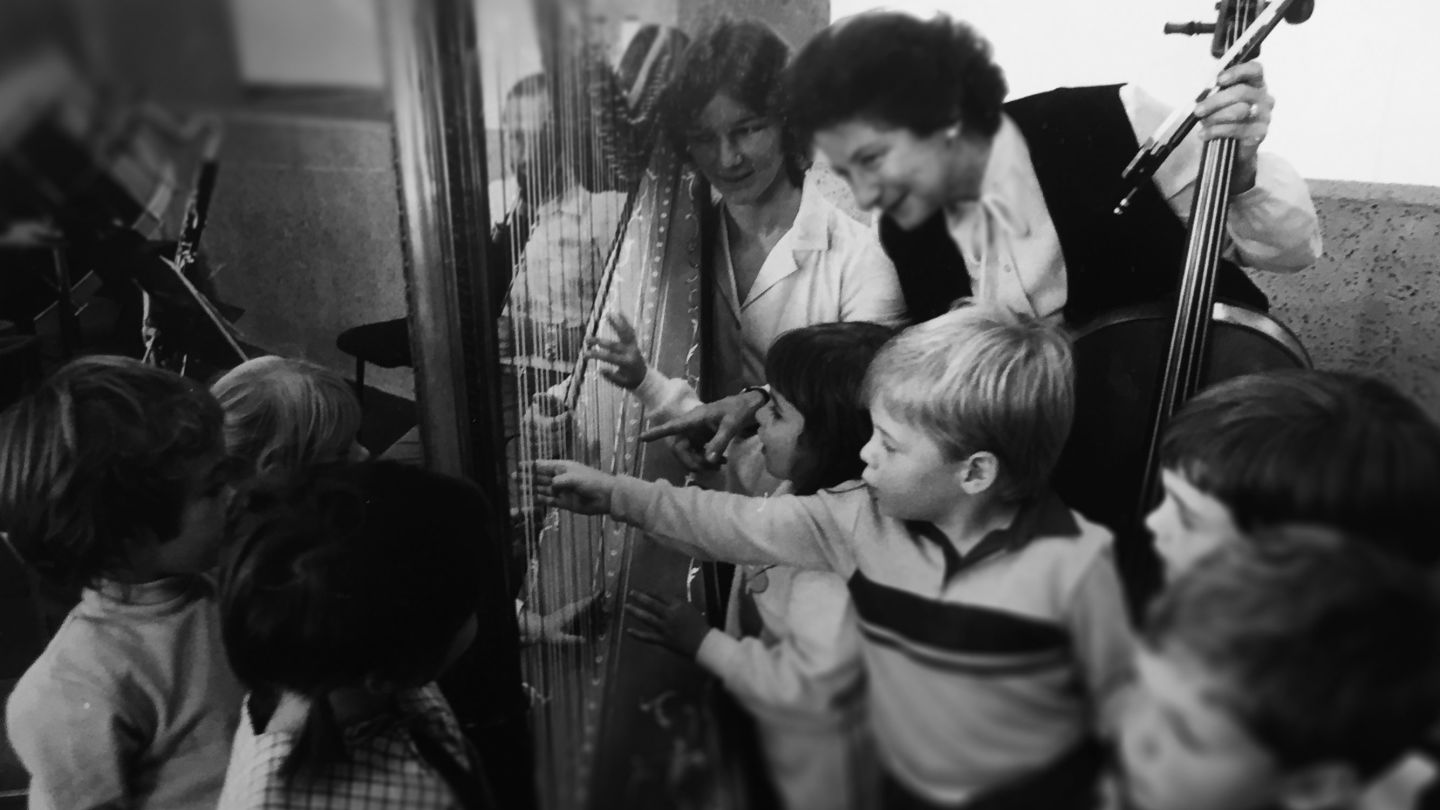 What's it like to play the harp in an orchestra? Jill Atkinson is more than qualified to answer this, since her first encounter was at a music camp in Adelaide in 1967, and she has been doing it ever since!
I was well-acquainted with orchestral music from my earliest years of hearing my father's classical music record collection as I went to sleep, and later attending many ABC orchestral concerts.
But nothing prepares you for the experience of being totally submerged in a mass of sixty or more musicians all blowing, bowing and hitting to their heart's content – so many diverse people united by the common goal of making something beautiful.
For me, there is nothing as exhilarating as being right in the middle of the enormous sound that is an orchestra – the infinite variety of colours, the intricate streams of music patterns that weave in between each other constantly. And, as the harp is used sparingly by composers, I frequently get to sit back and enjoy the concert as a listener when not playing.
Playing in a professional orchestra has many challenges; one of those challenges is working with a different conductor every week (or even every few days) as Queensland Symphony Orchestra frequently plays more than one program in a week, sometimes as many as four! Conductors each have their own technique and conducting style which we need to adapt to immediately. I work off my colleagues a lot, centering on their sound and listening acutely to the ensemble in order to perfect my own playing within the group.
The harp is a challenging instrument at the best of times, but playing in an orchestra requires many more demands. Not only do you have to find the correct strings instantly, mostly without looking at the strings at all, but you have to have extraordinary sight-reading skills given the amount of music we get through each week, and also immaculate ensemble skills. The ability to quickly adjust the moment of attack (creating the sound) has taken a lifetime to achieve, and is very difficult for harpists, who have to prepare every note in advance – much like a cymbal player who needs a good second to extend his arms before bringing them together for that terrific crash.
The harp, in spite of having forty-seven strings, belongs in the percussion section of the orchestra as it is used for special effects similar to the use of percussion. The piano (which is just a harp lying down in a big black case) likewise has many strings but doesn't belong to the string family either, which all bear the same shape, materials and history.
A harpist has to be very agile both mentally and physically as the entire body is activated all the time when playing. Most important of all is to keep your eyes peeled for every little nuance from the conductor while having ears pinned back for infinitely small audio cues from colleagues. The harp is not only a soloist within the orchestra, but also has the important job of accompanying a solo line from a player many meters away, or accompanying the official soloist out the front of the orchestra.
I rally to all of these challenges, probably out of a sense of daring which has kept me engaged and interested for my long career with Queensland Symphony Orchestra (forty-six years in April!). I have learnt a lot during that time and continue to learn, as we all must in order to keep up with changes. I have a persistently inquiring mind and have dared to break all the rules of harping in order to find a solution that works in the orchestral situation.
There is usually just the one harpist in the orchestra, so I am used to being a loner, not having a section with whom to hang out as many of my colleagues do. When on tour it is a chance to mix things up and hang out with other players, which is fun finding out what people eat for breakfast, or what their favourite dangerous exploit is. For the most part it is a matter of keeping in good with those whose consideration is required – when arriving early to tune for example.
I've had a wonderful career and I'm not finished yet! I look forward to sharing more beautiful music from stage with you soon.