At Home with Nicole Greentree
Part of our QSO AT HOME series
Blog ·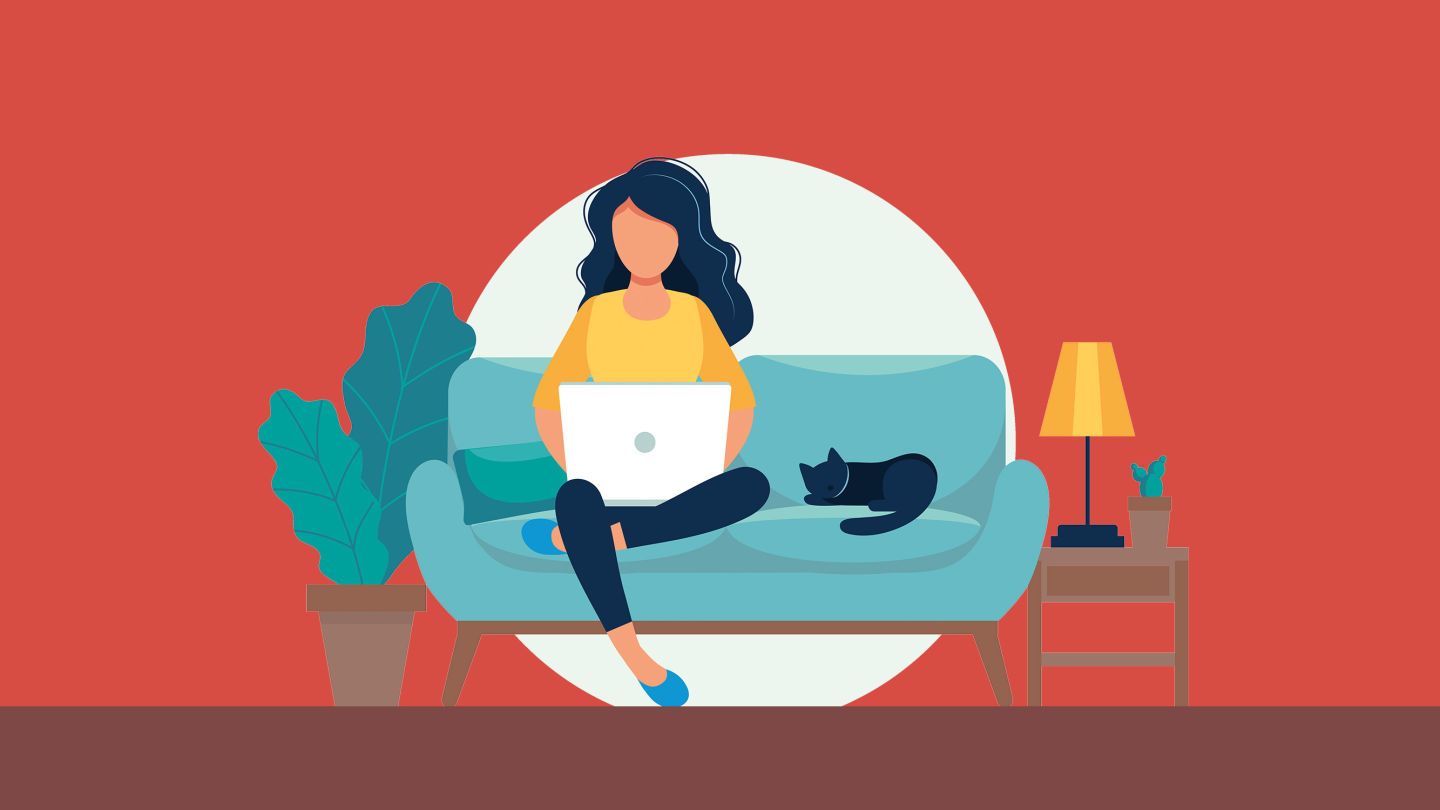 You may not be able to see them performing on stage, but while our musicians are stuck at home they're sharing an insight into their daily lives in isolation. Meet the first musician in our QSO At Home series, violist Nicole Greentree. ​​
Hi everyone, I'm Nicole Greentree, section viola at Queensland Symphony Orchestra. I'm already quite the homebody, so I feel well trained for being stuck at home. I wanted to share with you how I'm keeping busy, what I've been playing on viola and, of course, my isolation buddy.

My home is a very small apartment and I wanted to show you my favourite little nook of it. This is my creative space outside of music making and it's where I sew, where my luscious yarn and fabric stashes are stored, and where I'm inspired by the beautiful artwork on my walls.

The artwork you see on the left is by local Brisbane artist Kate Barry and the one on the right is a portrait I did of my dog Cuba (a backup career perhaps?). The dress I'm wearing is my own creation.
I'm very active in my hobbies and I am staying creative and calm during this time by engaging with them and the community more. At the moment I'm working on this beautiful sweater called "Wool and Honey", aptly named because of its honeycomb pattern, and am participating in a KAL (knit-a-long) online. It's a great way to do a solitary activity, but remain connected to other like-minded individuals.
I've also just put the finishing touches on this gingham dress. Sewing takes a bit more focus for me so I switch between my two hobbies depending on my mood. If I want to sit on the couch and binge TV then I knit, otherwise I try to get some sewing done.
When I'm not crafting I try to maintain a sense of normality in my musical life. My normal work routine has changed so drastically that it was quite an adjustment! Having a lot of time available to practice and no orchestral repertoire to work on initially overwhelmed me, but it's important to just do a little bit every day. I love to play scales and studies, and I always start with some of these good technical warm ups. Lately with the spare time I have, I decided it's a great time to practice pieces that bring me joy that I never quite get around to normally. So, I've been working on the first solo cello suite by Benjamin Britten (arranged for viola), and am regularly playing the Bach cello suites. Seems like I should've played the cello?
This is my gorgeous girl Cuba – you can see why I painted a portrait of her. She is my isolation buddy through these strange times and I don't know what I'd do without her! She is keeping me sane/calm/happy/active. She's an old girl at 15 years of age and I adopted her two years ago when I passed my trial at Queensland Symphony Orchestra. I've also got plenty more time to manage her Instagram account these days (@cuba_eats)
Thanks for reading and I hope you enjoyed learning a bit more about me!
Shirley Leuthner supports Nicole through the Music Chair program.