It Takes Two with Paul Dean and Phoebe Russell
Blog ·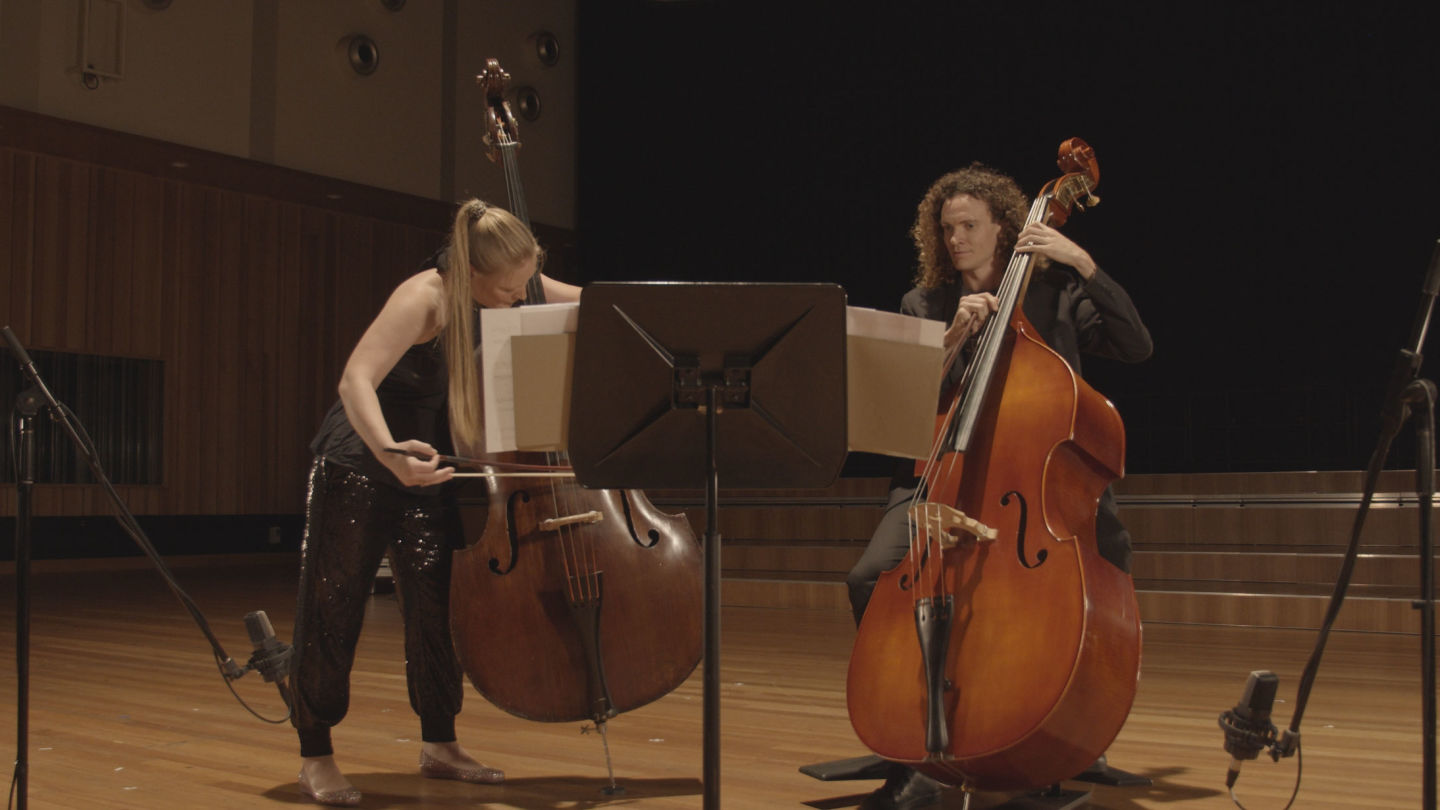 Phoebe Russell and Justin Bullock
We sat down with two incredible creatives (who just so happen to be good friends) to talk music, how they met and creating new works – composer and clarinettist Paul Dean and our very own Section Principal Double Bass Phoebe Russell. We learn about Paul's work, '7 Lockdown Miniatures for Double Bass', composed for Phoebe, ahead of her upcoming performance online alongside fellow double bassist Justin Bullock.
How did you two come to know each other?
Paul - I met Phoebe when she was 16. It was at the end of a very long day of auditions for entry into the Australian National Academy of Music (ANAM) where I was Artistic Director at the time. My fellow panel member said to me, this next girl is 16 and we would have to make a special case for her entering ANAM at that age (The entry age was 17/18 at the time) I remember sort of 'humphing' at that moment and thought, nearly time to call it a day, what damage can sitting through another bass audition do… I soon realised that my colleague was just watching my face for the reaction to her playing. It took me the rest of the month to get my jaw off the ground. It was easily the most impressive bass playing I had heard, and the music just oozed out of her. I recall saying to my colleague, 'she is the Jacquelyn Du Pre of the double bass'. I stand by that comment today. She soon moved to Berlin and ANAM missed out on having her brilliance in the building for very long… but, we were all happy to see her following her dreams on the world stage. We reconnected when she and her husband Bernardo moved back to Brisbane and now my wife Trish and I regard them as our family.
Phoebe - As Paul mentioned, we met for the first time at my ANAM audition in 2010! I was 16-years-old and had just dropped out of school with ambitions to focus solely on the double bass. Thankfully I was accepted (thanks, Paul!). Paul was the director at ANAM during my year studying there and I spent 2011 working closely with him on several chamber music projects. At the beginning of 2012, I moved to Germany to further my studies and we kept in touch. It is awesome to be in Brisbane working with Paul once again, nowadays as a member of Trish and Paul's fabulous chamber music initiative, Ensemble Q.
Paul, what inspired you to write for Phoebe?
Paul - In the middle of March, when everything was locking down and Trish and I had lost all our gigs and my two premieres were cancelled along with their commission fees, I was at a bit of a crossroads. I somehow came up with the idea to spend an hour every morning of lockdown writing a miniature for friends who were also suffering the lack of creative outlet, and missing concerts and gigs in general. For the next 70 days straight, I wrote a group of 7 miniatures for 10 families, couples or friends who were stuck in lockdown. The double bass set, number 3 on the list, was very early on and of course Phoebe and Bernardo were at the top of my list from the get go. I would send them their piece by about 10.30 every morning for a week, and I have to say the whole process of writing these 70 pieces kept me going throughout the whole lockdown (well, maybe the first lockdown – if there is a second wave I will probably start again).
Phoebe, is it nerve-wracking performing a work created by a close friend?
Phoebe - Absolutely! As a musician, it is possibly the greatest honour of all to have a piece of music written especially for you, so you really do want to do the piece justice. Paul and his wife Trish are close friends and these duos were a very special gift for my husband and I. Besides being nerve-wracking it is also an amazing experience to work alongside a composer on their new piece. We spent a few evenings together at our place with a glass of nice wine, playing for Paul and working through the score together. It's always really cool to see a piece evolve before it is presented for the first time. This is, of course, something you don't get to experience when performing a traditional work in the repertoire!
Phoebe, how long does it take to prepare a new piece? How is the process different to rehearsing something familiar?
Phoebe - As Paul mentioned, he sent us through a new movement every day by around 10.30am! For me, it was amazing to roll out of bed and discover a new work each morning over breakfast! This was right at the beginning of lockdown when most musicians were feeling pretty unmotivated, so these pieces really gave me something to keep working on. I worked through them slowly at first but the moment I heard we could go back to recording at work, I picked up the pace so that we could get them prepared to record as soon as possible. I would say I spent about three weeks working quite hard on the pieces.
When it comes to preparing a new piece of music there is a lot more experimenting that happens in the practice room. My husband, Bernardo, specialises in new music quite a bit and is currently doing a PhD in composition. Unfortunately, he has been suffering from an injury so has been unable to play these pieces yet. Paul wrote in a couple of special pizzicato techniques for Bernardo so there were certainly some new techniques for me to learn about. I am so thankful that my good friend and colleague Justin Bullock stepped in to play the pieces with me. It has been great fun to rehearse, record and perform these pieces with him!
Paul, tell us about your compositional process. Do you have an idea in mind before you begin or does the piece develop naturally?
Paul - As these pieces were written in an hour (sometimes stretching to 90 minutes), and written every day, I started to dream the ideas. Usually about 3am every day I would wake and start thinking about what today's idea was… or sometimes an idea came to me on the early dog walk. Nonetheless, any idea was good enough some days. I didn't have time for rethinking the idea… I just had to make it work. There are a few miniatures that are scattered throughout the 70 that are reflections on the current state of the world and the news of the day. No.4 of the Double Bass set is a destruction of the American national anthem (with inspiration from Jimi Hendrix of course) after watching the terrible stories coming out of New York and the hundreds of coffins being laid together in the massed graves there. No.6 was written the morning after Tim Brooke Taylor died of coronavirus. The piece itself is a slow slightly demented version of Land of Hope and Glory written in this case as a Chaconne with a soft melancholic melody sitting uneasily above it (in homage to those fabulous monologues delivered with fierce passion by Tim in the Goodies).
What is your favourite instrument to compose for?
Paul - As a clarinettist I have to say definitely not the clarinet. Probably the string family with a preference for the cello. My wife is a brilliant cellist and I love writing for her and the warmth of the sound and the melancholy that can be derived from it. I do prefer strings in general but when writing for orchestra it is the double bass, contra bassoon and the bass drum.
I'd like to finish by sending my extreme thanks to Justin Bullock who has stepped in magnificently to cover for Bernardo in the first performances of these pieces. What a star he is.
You can catch Paul Dean's composition '7 Lockdown Miniatures for Double Bass' in our upcoming fourth instalment of The Studio Sessions on YouTube.
Subscribe to our YouTube channel