My Favourite Composer
By Concertmaster Warwick Adeney
Blog ·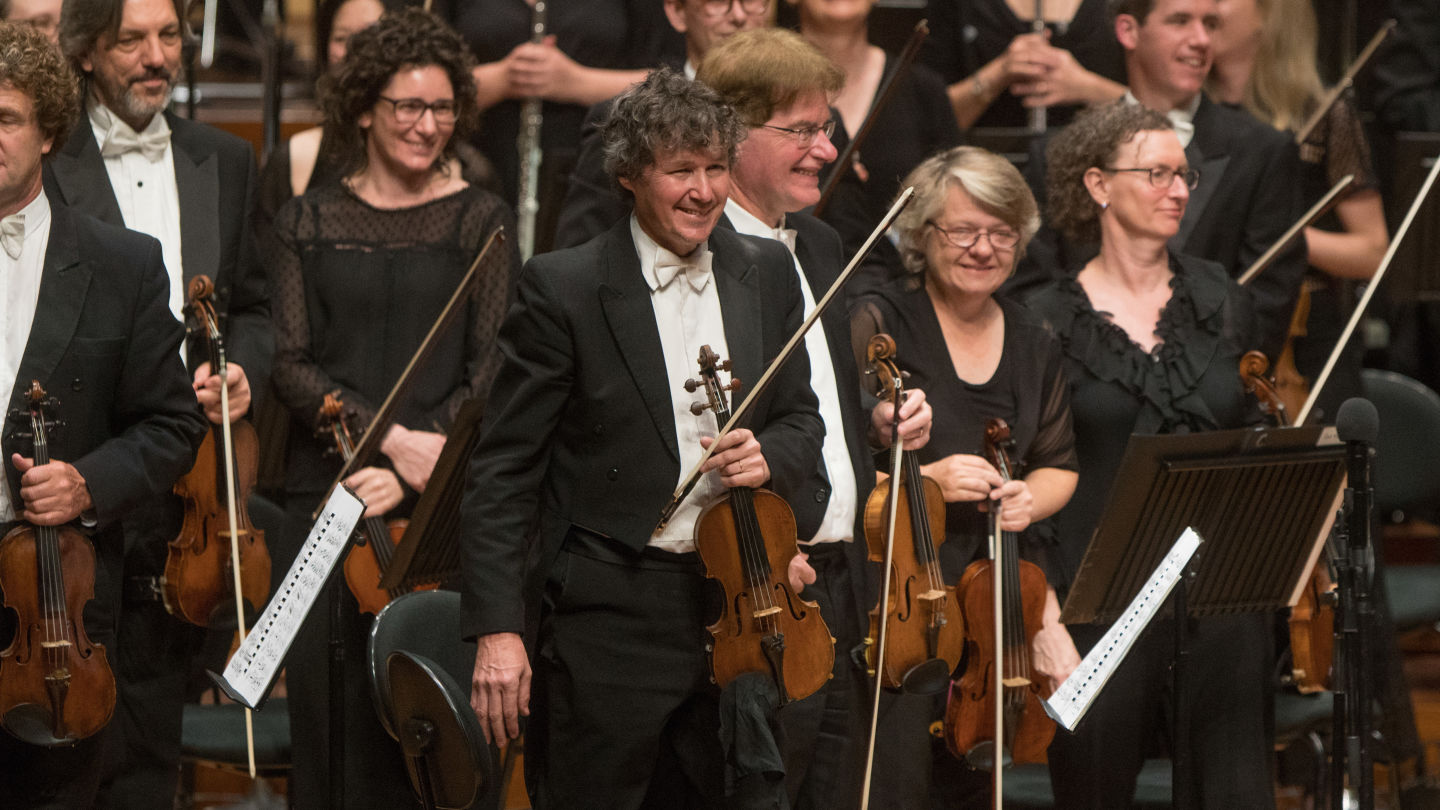 He plays the violin with charisma and leads our Orchestra with aplomb. In this piece, Concertmaster Warwick Adeney debates the challenges of choosing a favourite composer.
Recently, ABC Classic told us who our favourite composer is. It was quite exciting following the voting and speculation, with some shocks and disbelief when certain composers edged out others or an announcer would make a wild suggestion. As the results narrowed they seemed to generally reassert traditional taste on what is 'good' in classical music – Beethoven, Bach, and Mozart. When asked who my favourite composer was, I had a theoretical answer to the question and I'm sure I share a common experience among music lovers.
However, theory yields quite easily to practice, and in the warmth of listening or playing I can be suffused with great affinity and attraction (or sometimes repulsion and scorn!) for whatever is the present music. This happened to me recently when Queensland Symphony Orchestra was to perform our concert The Ballet Beautiful (before it was cancelled due to the pandemic). In particular on that program was a piece from Giselle played on solo viola. At the time – and played so well by Section Principal Viola Imants Larsens – this seemed a world-filling poetry. Outside of the ballet, it's generally considered, along with a lot of other such music, as rather second-rate.
But now what did Richard Strauss say? "I am a first-rate second-rate composer". In the blaze of his cosmic glory, Strauss is as impressive as anything in nature, but by the next day the effect is faded. Bernstein's virtuoso glitter in Candide is similar as is Shakespeare's repartee in his comedies – fantastic today and fast fading tomorrow.
What Strauss was alluding to was the idea of 'greatness' in musical composition – something he wasn't aiming for. While he revered Beethoven and Mozart, he was instead occupied with doing a good job at the time and for a particular kind of piece. A lot of really well-written music is like this.
A composer who stands out rather self-consciously in attempting 'greatness' in absolute music is Mahler, who said "the symphony must be like the world; it must embrace everything". He must have meant something universally human and profound and, in order to be music, beautiful. Many people today hear his music in that way, more than they did in his day. However, for him also, greatness was Beethoven.

So in Beethoven, do we find the composer most recognised for these 'great' qualities? Do I like him? My parents gave me a record at age 12 I think, an LP of David Oistrakh playing two Beethoven romances and two Bach concertos. The family would gather after dinner to read, the parents smoking copiously and the bloodhounds drooling on the carpet and books, and I would lie on the floor listening to this record through headphones. At that time, I used to fantasise about playing just a couple of notes together that might sound as good as Oistrakh or Menuhin. My mother kindly corrected me, saying I'd made very little progress since I started (at age five). I knew every nuance of those pieces and the way they were played, and loved experiencing the moments that inspired a kind of yearning – recognition of a romantic beauty hinted at and hoped for. I still find Bach's slow movements extremely romantic and Beethoven full of noble hope.
I'm getting to my theoretical favourite composer dear reader, but another memory: my older brother taught me the violin from around nine or ten, and he had his radio on in his caravan when I came in for a lesson one day. I wish I knew what that music was – it was so beautiful. My brother must have noticed something about me, as he said, "you really like that, don't you?" I think it was in the gilded-lily class of beauty such as Rimsky-Korsakov and Puccini can feature – sometimes arresting, not really about anything. Incidentally I find one of the loveliest things in music is the Puccini aria, Che gelida manina (or What a frozen little hand). What's it about? Nothing, really! I used to put on a recording of it whenever I changed my baby's nappy, because it seemed to go with the crazy beauty of parenthood.
As a student I disliked two composers: Tchaikovsky and Haydn. Tchaikovsky – he must have been faking it, as nobody could feel that way. Now I know he wasn't, and he certainly could feel it, and so can I. And Haydn, who could tolerate that cheap idiocy? My daughter said a while ago that she found it funny and a bit exasperating that Haydn was so violently happy. But, Haydn is the one I've been most drawn to in my maturing years first through the string quartets, then through his symphonies (which I suppose I know better than any other music). I think in the Philharmonic days (as we played many Haydn symphonies) my love grew. Maybe there was a hinted appeal to preferring him to Mozart in a way. There is always venerable respect for Haydn among conductors. I was attracted by the quietness of production – Haydn working hard in a very ordered way and un-cosmopolitan setting, not an early genius, not a great performer, not a 'great' or lionised person for much of his life. One writer has described Mozart as a miracle cook, with puffs of smoke introducing gorgeous productions, while Haydn works his potatoes and common stuff before your eyes into classical perfection.
I think in the end I have an affinity of personality with Haydn and prefer him to arguably greater or more universal composers. He is not especially profound; beauty spots are rare. But I feel honesty, earthiness, humble beauty in his work, informing propulsion of phrase and form which really is more miraculous to me. Where Haydn 'goes' is always surprising, though he travels economy.
Here's another consideration, a very banal one – my father used to turn down the loud bits and turn up the soft bits in composers like Beethoven. Haydn is pretty much on the same level all the time. That means I could have his symphonies on while caring for the children, washing up, making book cases. Mahler or Bruckner would be a hopeless background, with their great crashing climaxes and inaudible in-between bits! But I have never become sick of Haydn's symphonies, particularly the early ones.
I consider myself fortunate that I never tire of music. I never tire of the same hackneyed things, of commonplace effect, of physically churning it out. I am very often caught up in the piece the orchestra is playing to the extent that I am temporarily oblivious to the merits of anything else we might have played or could play. The piece we're on, be it recent things like Gluck for the ballet program, or The Happy Prince score by Australian composer Christopher Gordon, is the best thing. When playing these I couldn't care less at that point for Beethoven or Bach, while Haydn would be ridiculous. I think for this reason the idea of a favourite composer is something theoretical, and doesn't have much purchase on me in my musical life practically. I am just happy to play!