Our Favourite Classical Music Podcasts
By Renée Jones
Blog ·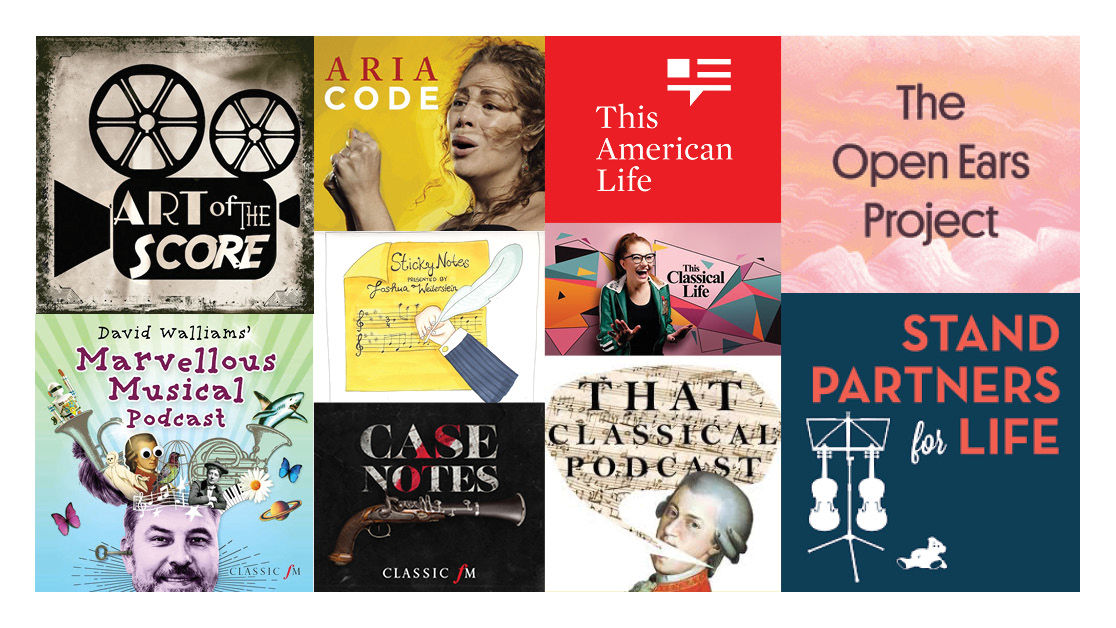 Most of us have enjoyed podcasts for a while now, but there's something about being stuck at home that has us stockpiling all the entertainment we can find. Here are our top ten picks for classical music podcasts to binge in the next few months.
#The Open Ears Project
Part Mix-Tape, Part Sonic Love-Letter
At its heart, music makes us feel. It soothes, empowers, invigorates. The power of music to speak directly to the human heart is profound - as Hans Christian Andersen once wrote, 'Where words fail, music speaks.' It's this premise that underpins this breathtaking podcast. Each short episode features a guest speaking about their favourite piece of music – why they love it, what it means to them, how it has nourished them. This series is not about compositional technique or musical history – it's about why we listen to music. Episodes conclude with a spectacular performance of the piece chosen, leaving you in no doubt.
Listen Now
#David Walliams' Marvellous Musical Podcast
A Wild and Whacky Intro to Music
This podcast is perfect for teenagers, though grown-ups will love it too. David Walliams, more popularly known for his children's books, is a superb host - engaging and interactive, with a quirky humour throughout. Ever wondered what the weirdest musical instrument is? Or what made Beethoven so grumpy? In ten short episodes, Walliams traverses the musical landscape from crazy composers to rock star soloists, bizarre instruments to breathtaking ballet. Press play while you're getting dinner ready and everyone will learn something new.
Listen Now
#This Classical Life
A Playlist for Today
This refreshing podcast from BBC Music engages with the next generation. Host Jess Gillam is just 21 years of age and already boasts an impressive performance career as a saxophonist. She comes at classical music with a bucket-load of knowledge and a youthful enthusiasm that make this series relaxed, accessible and fun. In each episode Jess interviews a fellow musician, and together they introduce each other to their current playlist, chatting effortlessly while excerpts play in the background. It's as though you're a fly on the wall as two friends share a drink. We love it.
Listen Now
#Case Notes
Classical Music Mysteries
Each episode of this intriguing podcast seeks to solve a music mystery – from a stolen Stradivarius, to Haydn's missing head, to the confusion surrounding Tchaikovsky death. You'll be hooked by the great storytelling, fascinating anecdotes, and compelling presentation from Tim Lihoreau and the team at the UK's Classic FM. It's a short series with just six episodes at 30 minute length, but you'll enjoy every morsel!
Listen Now
#That Classical Podcast
30 Minutes of Comic Cacophony
The 20-something hosts of this hilarious show are determined to trample all your pre-conceived notions of classical music. Sure, they want you to learn about music, but they also want you to have a good time. Each 30-minute episode features a whistle stop tour of two composers with both hosts nominating the three works that best represent them. There are also spotlight episodes on instruments and performance styles. Never heard of Mahler? Doesn't matter! Always wondered why a concerto is so special? They've got you covered. If the episode 'Death Chocolate and Musical Pizza' doesn't pique your curiosity, perhaps 'Sword Fights and Magic Cake' will. Trust us, if you're not sure classical music is for you, this podcast will convince you otherwise.
Listen Now
#Stand Partners for Life
Secrets of the Symphony
This unique series is hosted by dynamic husband and wife duo Nathan Cole and Akiko Tarumoto, who live, work, and play violin together in the LA Phil. This rare viewpoint offers unparalleled access to the backstage and onstage life of orchestral musicians as they discuss the challenges of juggling a performance career with a family. They cover a fascinating variety of topics - from their favourite conductors, to managing injuries, practicing scales, to what it's really like to prepare for an audition and be on the other side too. All this, topped with a generous measure of musical insight and backstage banter. It's a genuine treat to peer into what feels like a hidden world. As they say, one of the best parts of their job is 'making music with the greatest artists in the world', and you can tell.
Listen Now
#Art of the Score
A Movie Music Marathon
If you consider yourself a movie buff, then you've hit the jackpot with this series. In each episode hosts Nicholas Buc, Andrew Pogson, and Dan Golding examine a movie soundtrack in breathtaking detail – if you've ever wondered where Hans Zimmer got his inspiration for Gladiator, or how John Williams developed his iconic character motifs in Star Wars, then this is for you. Their analysis goes beyond the music too, with historical and cultural significance also considered. With episodes ranging from James Bond to Stranger Things, Star Trek to The Little Mermaid, you are sure to find something to suit everyone in the family. And, with each episode running the length of most feature films, they are the perfect accompaniment for a road trip or rainy day.
Listen Now
#Aria Code
Opera – Unpacked
This podcast is one for all the opera fans out there. Produced in partnership with The Metropolitan Opera, each episode decodes a popular aria with the help of a world-renowned singer alongside a lineup of musicologists, writers and historians. If you love the beauty and drama of opera, you will enjoy the friendly but in-depth analysis of each piece. You'll discover the historical context of the characters, appreciate the musical milestones hidden in the melodies, and even get to enjoy a full rendition of the chosen aria recorded live at The Met at the end of each episode. It's a spectacular sendoff!
Listen Now
#Sticky Notes: The Classical Music Podcast
The Ultimate Deep Dive
If you really want to fall down the classical music rabbit hole, Sticky Notes is your perfect launch pad! Instead of focusing on one composer per episode, host (and conductor) Joshua Weilerstein zooms in on a particular work. Episodes range from Mozart's 'Jupiter' Symphony, to Bartók's Concerto for Orchestra, and no less than four episodes on Mahler's Symphony No.9! You'll also find interviews with composers and musicians, and a few insightful best-of lists. Part history lesson, part musical analysis, this series is like taking a music degree without the tuition fees. If you don't know where to start we'd suggest browsing the 150-strong episode list until a familiar name pops out. There is so much material in this series you'll be occupied for months!
Listen Now
#This American Life - The Feather Heist
An Unthinkable Whodunnit
Podcast enthusiasts will be familiar with the beloved series This American Life that has set the bar for storytelling worldwide. Whilst this isn't a classical music podcast, this particular episode definitely had our ears twitching. In short, a 20 year old music student breaks into the world famous British Natural History Museum and steals a collection of exotic birds in order to sell their feathers to the fly-fishing industry, all so he can fund the purchase of a golden flute. Don't believe it? We didn't either! This true crime is a spectacular tale unlike any other.
Listen Now