Reflections on a Quieter World
By Warwick Adeney
Blog ·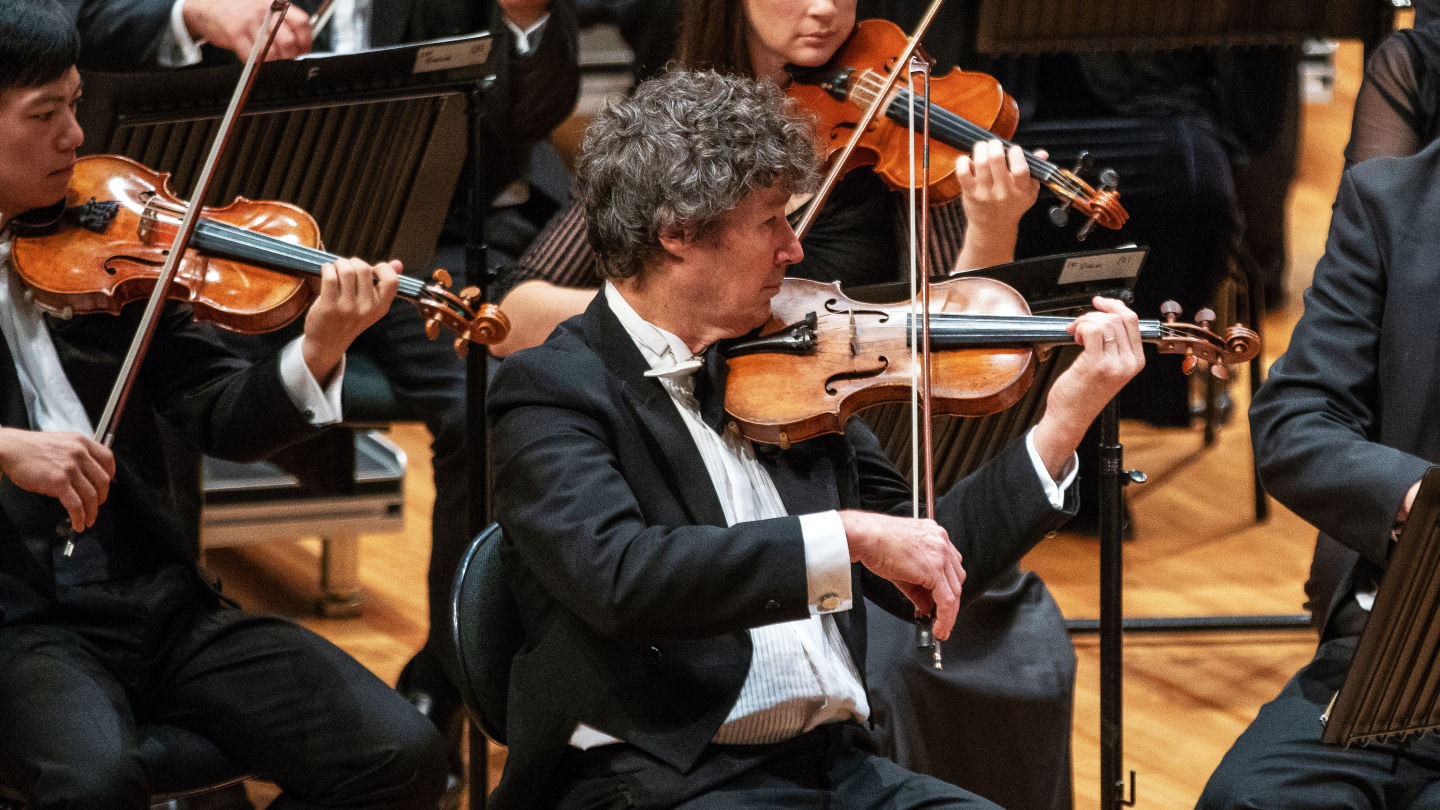 "It is a time for communicating when we cannot meet; thinking, when we cannot discuss in company. It is a time for practising, when we cannot play music together." Concertmaster Warwick Adeney takes a moment to reflect on our new normal.
On beach holidays I used to lay awake at night listening to the sighing of the waves, tempted to wonder if they felt lonely without all us young families scampering about in them as we did all day long. Now, I think of our rehearsal studio at South Bank – its lovely wooden panels (which after seven years still exude a faint friendly odour) unused and in darkness. The Concert Hall at QPAC is the same, and when a space is constructed for sound it is suspended and insulated so that quietness and darkness are pretty absolute. I greatly want to break into these spaces again, make normal noise, make fine music, but I know it won't be for some time.
I am staying with my mother-in-law in her retirement village. This is because my daughter is isolating at home and I am keeping right out of her way with my dicky ticker. I am practising a lot – I'm reading, lighting candles, cleaning Mum's tiles etc, and being vivacious and gregarious on the laneways with the residents who bloom and shine as much as their lovely gardens. Quite a number of them have seen our videos. It is a beautiful place and a kind of holiday for me.
Today a friend I have made here organised for me to play my fiddle at several vantage points around the village. There are hundreds of quaint units and houses, all with shiny neat gardens and funny ornaments – chooks, dachshunds, scarecrows, nymphs. At each stop, I started playing and appreciative faces would appear in doorways and windows and on balconies. I felt good. Sometimes I played well. There was gratifying appreciation I had brought something to some isolated people. First I played Carmen's Overture and Habanera, next Gluck's Melodie and Brahms' Hungarian Dance, The Merry Widow Waltz, Csárdás, and so much more. This went on for two hours. It seemed something I could happily offer and happily many took it up. The village is very orderly and quiet, and a few minutes of raucous sweetness is a welcome distraction.
My reflections on this are of a sober nature. Firstly, gratitude for being able to play and give something back. I want to play well, to communicate something intrinsic. Of course, in a shameless and cheap way, I want people to think I am pretty good and a pretty good person. When I play solo, I create the scene, give light and structure to the foreground, and hint at the background. I command the time and conjure the place....if things are going well! I've come to personalise certain pieces strongly and I hope that's convincing, as I always find it when I hear a convicted interpretation myself. Moreover the art of the violin is subject to its own expectations, so that sometimes the fiddle itself is taking the lead. I am fortunate to possess a bearing in performance and, though I'm aware of technical shortcomings, try to ensure the communication is coming through. I know I do not have the easy aplomb of Ray Chen or Nigel Kennedy, but then they are not here!
It is much to be hoped that this period will be a seedbed for stronger connections, new ones, and healthy resolutions. It is a time for communicating when we cannot meet; thinking, when we cannot discuss in company. It is a time for practising, when we cannot play music together. It is a time to learn, when we cannot be busily activated while often pushing away learning. We want to acquire skills for solitude, and look forward to reconnecting with normal life with refreshed feelings and perhaps greater depths - and perhaps new impetuosities and mistakes to humour us. I suspect it will be amazing what emerges from this solitude, and each individual will have important contributions to make. While we have to provide basic necessities now, having to care for life and death, food and jobs, the artistic sensibility is crowded back in our minds, gathering fuel for an outpouring of recollection, of adversity and of gratitude. I know people are writing stories, drawing, and singing (one of our musicians suggested we each try to learn the basics of another instrument). And in time I'm sure great works of art will result from this time. The efforts of some of our musicians, and others around the world, to create "virtual" ensembles are already remarkable. When we emerge from this period, will it be back to normal? Or a supra-normal state, at least for a period, when our appreciation of artistic reflection is heightened?