Happy Birthday Beethoven!
By TJ Wilkshire
Blog ·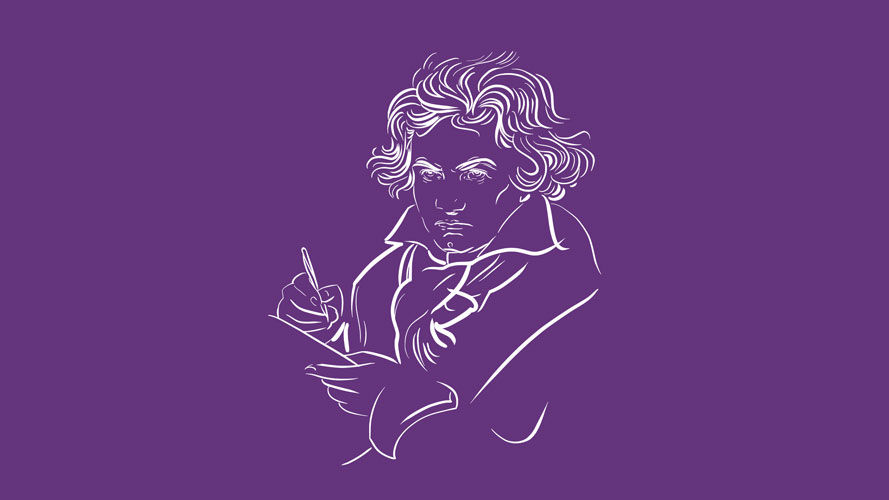 #A low down on the musical icon who is still topping the charts today.
Fads come and go – flares, waterbeds, mullets... Staying relevant for longer than a few years is almost impossible and yet one composer has defied the odds.

As the world celebrates the 250th birthday of Ludwig van Beethoven this year, we look back on the composer who transformed the concert platform into a dramatic experience with twists and turns that audiences just didn't see coming.
Here's our rundown on the legendary composer, our picks of his most thrilling pieces, and why we think he's a household name.
Many may know of the German composer: Ludwig van Beethoven, born in 1770 and almost completely deaf by 1814. Despite his hearing loss, Beethoven continued to compose and created his final symphony and one of the first choral symphonies ever – his epic Ode to Joy symphony. Did his deafness turn him into a musical martyr? Perhaps, but the genius of his works, deaf or not, is incredible. Beethoven died in 1827 having composed nine symphonies, 32 piano sonatas, one opera, five piano concertos and many, many chamber works.
#Why is he still a household name?
Beethoven was a musical force – a phenomenon and a prodigy even in his time in the 1800s. Many believed he shaped the culture, sound and identity of classical music and still continues to do so today. Those who came before him (Hadyn, Mozart, Bach) contributed significantly, but it was Beethoven that took music from entertainment to transformative. His intricate works and developments had audiences (and still do) on the edge of their seats – some of his works take on multiple themes that circle back in nostalgic ways while others shake us awake with the sheer power of an unexpected instrument.
We owe a lot to Beethoven – many believe it was his legacy that inspired the art of conducting; his music influenced modern recording technology (the first generation of CDs was created so that his Symphony No.9 could play uninterrupted; his symphonies were structural innovations that composers would try to replicate for hundreds of years; and he even had an impact on how today's pianos are made (his music demanded pianos to be more flexible and definite).
250 years later Beethoven is still influential. Even those new to classical music have heard his works: Symphony No.9 appears in movies including Die Hard and A Clockwork Orange; his ode to an anonymous muse, Für Elise, has been sampled in hip-hop; and Beethoven himself has even made a cameo in Bill and Ted's Excellent Adventure. The epic nature of his music is ideal for feature in films, his technical prowess continues to influence modern day composers, and his biography (musical genius goes deaf) makes for an incredible story.
#The Beethoven hits to get you started
Rage Over A Lost Penny, Op.129 (1795)
Delightful, cheeky and upbeat – this piece is thought to actually have been named by Beethoven's good friend Anton Schindler.
Triple Concerto for Violin, Cello and Piano in C major (1803-4)
Balancing three different solo instruments is no easy feat. This work is the only concerto Beethoven ever finished that included more than one solo instrument. He writes for the violin, cello and piano with less 'heroism' than his other works and more 'chivalry', perhaps as a modest nod to his own abilities as a composer.
Violin Concerto in D major, Op.61 (1806)
In this work Beethoven demands a high level of virtuosity of the performing violinist – frequent compositional changes meant only one violinist during his era attempted to play it and many critics thought of it as un-playable. The first performance of this concerto in Vienna was not received well – the violinist Franz Clement played a sonata of his own creation in-between the movements, but on one string with the violin upside down. It wasn't until years later in 1884 when Hungarian composer and musician Joseph Joachim revived the work and it became one of the best known violin concertos.
Symphony No.5 in C minor (1808)
From those first few spine-chilling notes, this symphony is set to be ambitious from the beginning. It's believed that Beethoven worked on this intense symphony for years – themes from the first three movements appear in his sketchbooks dating back as far as 1800.
Symphony No.9 in D minor, Ode to Joy (1824)
There's nothing like the quiet, slow build of this work and the sudden crescendo of strings and trumpets to really wake you up. This one is obvious for both long-time fans and those new to Beethoven. For the fans – you know why this epic symphony is famous. For the newcomers – you've heard this one in Everybody Loves Raymond and Die Hard.