It Takes Two with Nicholas Thin and Joseph Stewart
Blog ·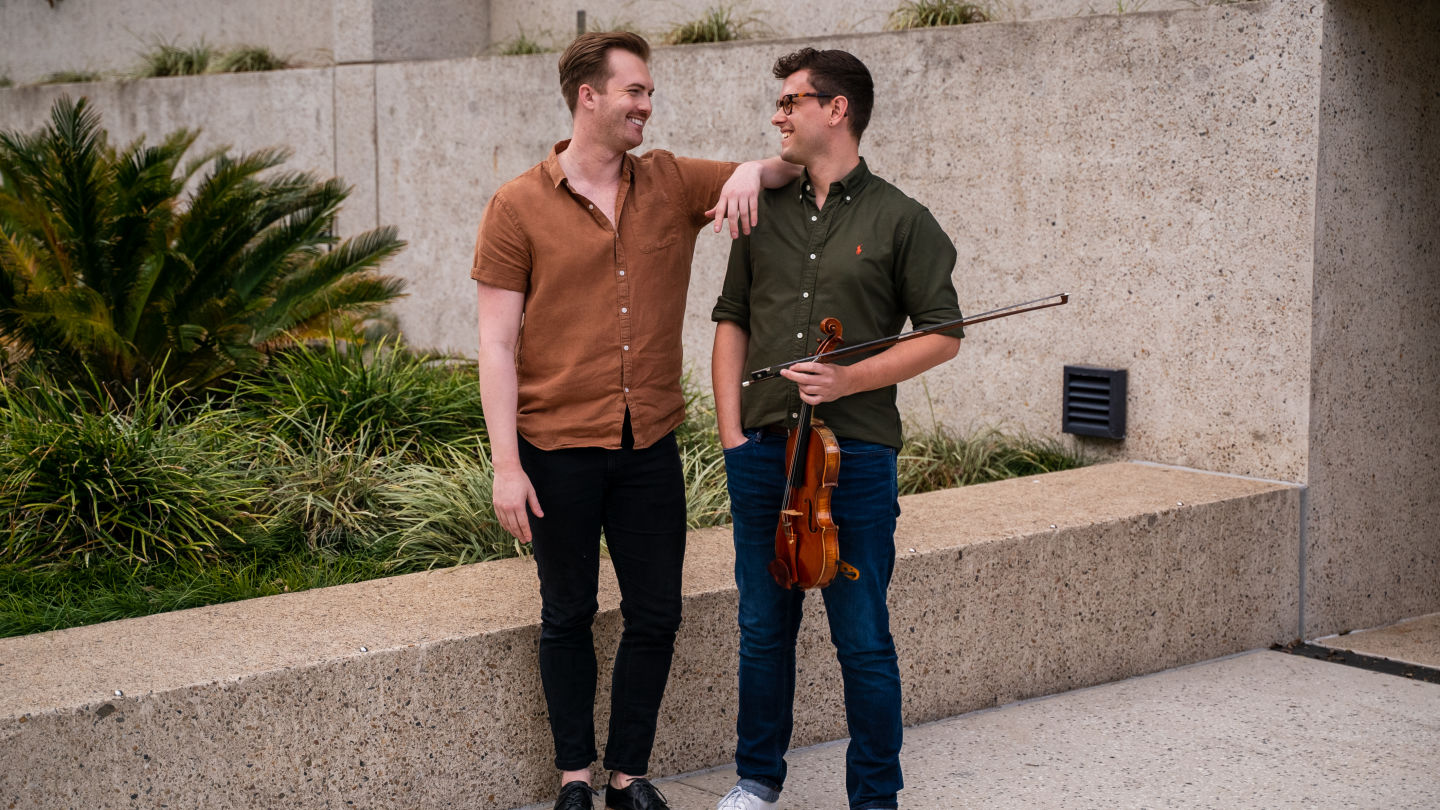 We sat down with two talented creatives partnering in music and in life – our very own violinist Nicholas Thin and his partner former dancer of Queensland Ballet, Joseph Stewart. We learned about combining music and movement, Joseph's journey into ballet and creative ideas the two have for the future.
How did you two come to know each other?
When Joseph was a dancer with Queensland Ballet, more often than not I was playing in the pit as he performed above. Albeit countless opportunities to cross paths backstage at QPAC, it is surprising that we hadn't met earlier – we ultimately connected online.
So we are partners in profession and life. They say "don't work with your partner" but we're truly glad we do.
You both worked on our Orchestra Over the Fence video featuring dancer Tim Terton. What was it like as both your art forms met together for a video performance? (Instead of onstage like they usually would.)
It felt natural for our art forms of music and choreography to align. Our objective was to ensure the film captured an essence of spontaneity, as opposed to a curated film. We had a passionate creative and production team enabling our little vision, which always makes for an enjoyable experience from concept to final cut.
Pivoting our craft to film was exciting; we both welcome challenges that enable us to develop creatively whilst learning from our industry peers – how lucky we are!
If both of you could create a performance combining violin and movement, what would it look and sound like? What would you call it?
There are squillions of compositions in the classical music repertoire that lend themselves to dance – this collaboration has enriched the appreciation of each other's art forms and revealed to us the golden opportunities of working collaboratively. We both adore Schoenberg's, Verklarte Nacht and are curious about the impact it could have for an audience if it was paired with dance. Now, all we need is the budget...
Nick, do you have a favourite ballet you've performed music for?
Nick - Prokofiev's Romeo and Juliet is one of my favourite ballets that I've performed to date. Being in the orchestra pit you miss experiencing the talented dancers perform, but Prokofiev's way of weaving narrative into the music is so evocative that I can envision the story playing out on stage above.
Prokofiev's use of instrumentation is incredibly masterful making it a powerful and colourful score. I love the heart-wrenchingly beautiful melodies throughout, contrasted with massive walls of penetrating sound. Immersed by the music in the pit always evokes a deeply stirring and exciting experience for me and the emotional ending always gets me.
I also thoroughly enjoyed playing for Ballet Preljocaj's Snow White in 2016 for Brisbane Festival with QSO. Playing selections of all Mahler's momentous symphonies every performance was incredibly rewarding – I'd love to play this production again.
Joseph, what was your journey into the dance industry like?
Joseph - My journey into the dance industry was a culmination of dedication, hard work, resilience and relentless support from my family. Pursuing a career in professional ballet is serious business – particularly in Australia where there are only three major classical ballet companies, so job outcomes are limited.
The journey started at age four in a church hall at The Grange with Eva Kohout, a former Czechoslovakian principal ballerina. She gave me the gift of ballet, and it's changed my life ever since. My elite training was with Queensland Ballet Academy which led to a traineeship with Queensland Ballet and in 2012, current Artistic Director Li Cunxin AO invited me to be a Company Dancer and the rest is history.
I am exceptionally grateful that Queensland Ballet had visible pathways for me to enable a home-grown career in ballet that led to an international performing arts career.
Joseph, what kind of classical music feeds into movement in a surprising way?
Joseph - Legendary choreographer John Neumeier masterfully choreographed on Mahler's 3rd Symphony. When it premiered in 1975, it gave a cultural reset to how ballet audiences experienced the great symphonic repertoire.
Albeit Mahler's powerful symphonies are not composed for dance, we were both pleasantly surprised after experiencing Neumeier's choreography – it delicately gives the audience a new perspective on Mahler's symphony in a way that is profoundly respectful and harmonious to the music.
Another Mahler moment was when Nicholas played for Ballet Preljocaj's production of Snow White – which involved playing a mashup of all Mahler's ten symphonies that remarkably complimented the narrative of this modern ballet.
Who'd of thought that Mahler's great symphonies would surprise us in such a way!
Joseph, you play the ukulele! Do you and Nicholas ever jam together?
Joseph - I can – thanks YouTube! Although, my musical bones are more inclined to piano I had the absolute delight of learning piano from the late Mrs Lane, pianist Piers Lane's mother, of which I have fond memories. Along with dance, she is another teacher that had a profound impact on my life.
Nicholas and I don't jam together. I leave the music playing in the household to the professional. Although, it isn't uncommon on the odd occasion for me to bust out an unwelcomed goofy dance when he's practicing.