Taking 5'15" with Thomas Allely
Blog ·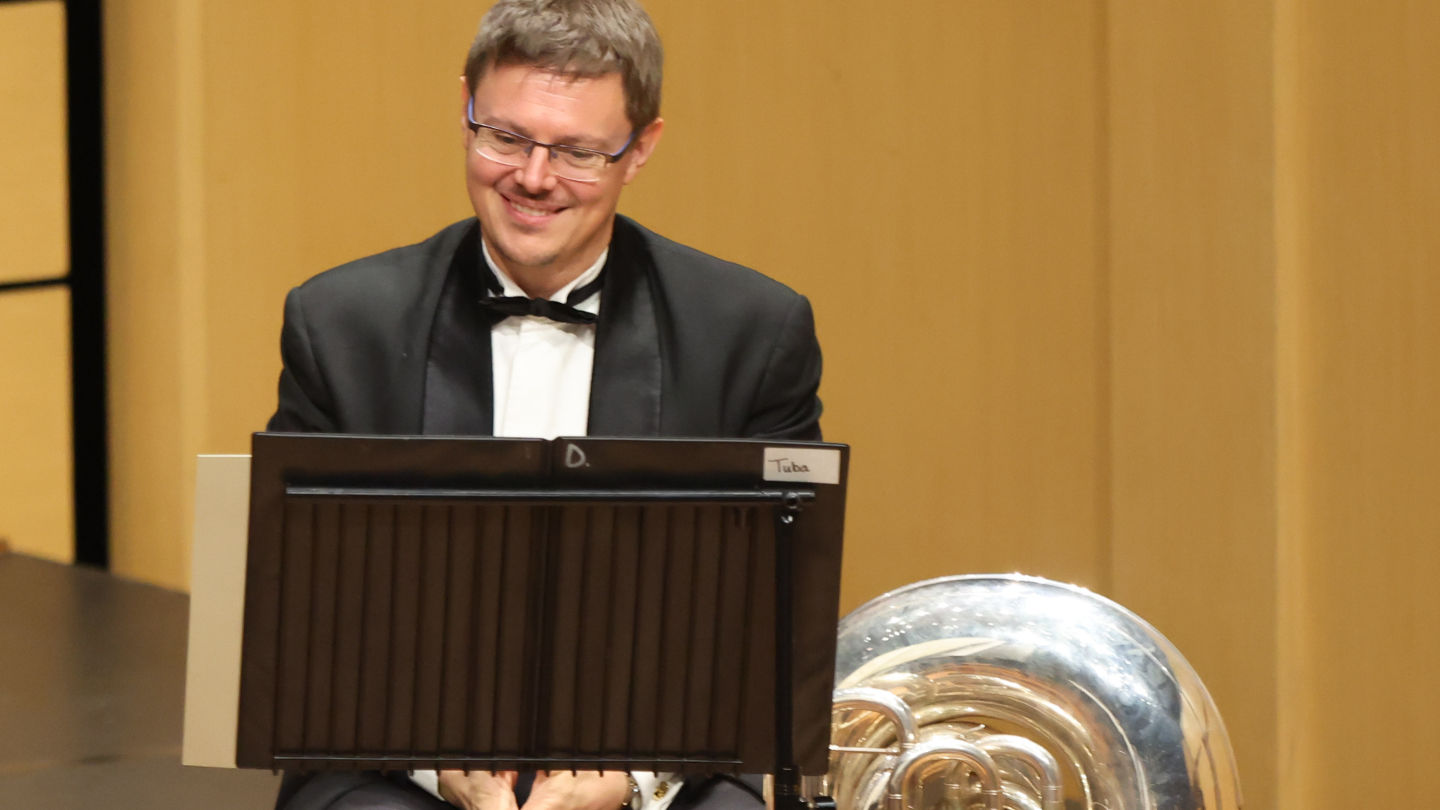 Section Principal Tuba and almost astronomer, Thomas Allely is unmissable on stage, literally! (he's the one with the giant gold instrument).
We sat down with Thomas to talk his music journey so far, how he's prepping for his big solo in our upcoming Great Inventions concert and what he would be doing if he wasn't onstage blasting out those marvellously deep notes!
Tell us about your tuba career so far. How did your music journey begin? Any highlights or favourite performances? 
My high school had a very successful music program, and they had us do a little aptitude test (that is, we got to blow a few notes on all the brass instruments) and I apparently made a good sound on the tuba. I managed to progress quite quickly and got a spot in the local youth orchestra and it all just sort of took off from there. I was extraordinarily lucky to have a head of music who created amazing performance opportunities and a really strong program at the Christchurch School of Instrumental music. I decided to go to Wellington for my undergrad and study with the tuba player in the NZSO - my first professional positions (back in the last millennium) were with the Central Band of the Royal New Zealand Airforce and the Wellington Sinfonia.
I moved to Australia in 2003 for postgrad and fluked my way into the Sydney Sinfonia (I think the nap I had before the audition helped a lot, the 12-hour train ride from Melbourne to Sydney, not so much) and also played a little with the Sydney Symphony and the Australian Opera and Ballet Orchestra. I won the position with Queensland Symphony Orchestra in 2007, and since then some highlights have been playing the Jones Concerto in 2013, Mahler 2 with our previous Music Director Alondra de la Parra, and meeting Peter Davison (the fifth Doctor!) at our Doctor Who spectacular in 2014.
What are some of the challenges tuba players face? 
Maintaining our playing form all through the times we're not playing a lot - it's a bit like being a fireman; we might spend a lot of time waiting around, but when we're playing something like Prokofiev 5 or Mahler 6, we need to be able to slide down that pole and bring our a-game. Also having the flexibility to play music written by composers who had wildly different instruments in their orchestras - the tuba Brahms expected to hear was very different from the instrument in Ravel's orchestra which was different again from the instrument Prokofiev wrote for - the tuba's the youngest instrument of the standard orchestra and there was lots of regional variation in the first few decades - add to that conductors who have different concepts of balance that run the gamut from "the tuba must shake the very earth beneath the audiences feet", to "if I can hear that big brass thing up the back at all it's too loud" so we do need a lot of flexibility and some good humour. Or at least patience.
Tell us about how you're preparing for your solo in our upcoming Great Inventions concert?
Apart from alternating between exhilaration and terror, I've been practicing a lot! It's a very clever piece but it does have some knotty sections for the soloist to practice – for those who don't know, the concerto is written in memory of an aircraft engineer who played the tuba and loved Wagner. There's a little pattern the tuba plays that sounds and looks a little bit like the curlicues of air over aerodynamic surfaces - it twists and turns as the composer plays around with the harmonic and rhythmic tension the shape creates. This invites us to imagine the protagonist refining his designs (with trips to his basement studio where he would work and listen to Wagner) and retesting his work until the motif flows like water at the end and we have the triumphant finish. I've been playing all those bits and working on getting the flow of them!
What's one great invention you can't live without?
We have friends and family all over the world, so I'm going to say, appropriately enough, the airplane!
If you weren't a tuba player, what would you like to be doing 
Originally, I wanted to be an astronomer. But I ended up doing music instead when it came time to university degrees. Recently, a friend pointed out that music and astronomy are both ways to approach the ineffable, so maybe I just have a desire for the beautifully deep, sublime and meaningful?
Catch Thomas Allely's solo as he performs Samuel Jones' Concerto for Tuba. Book your tickets now for Great Inventions on Sunday 25 July 2021.