Taking 5 with Catherine Likhuta
Blog ·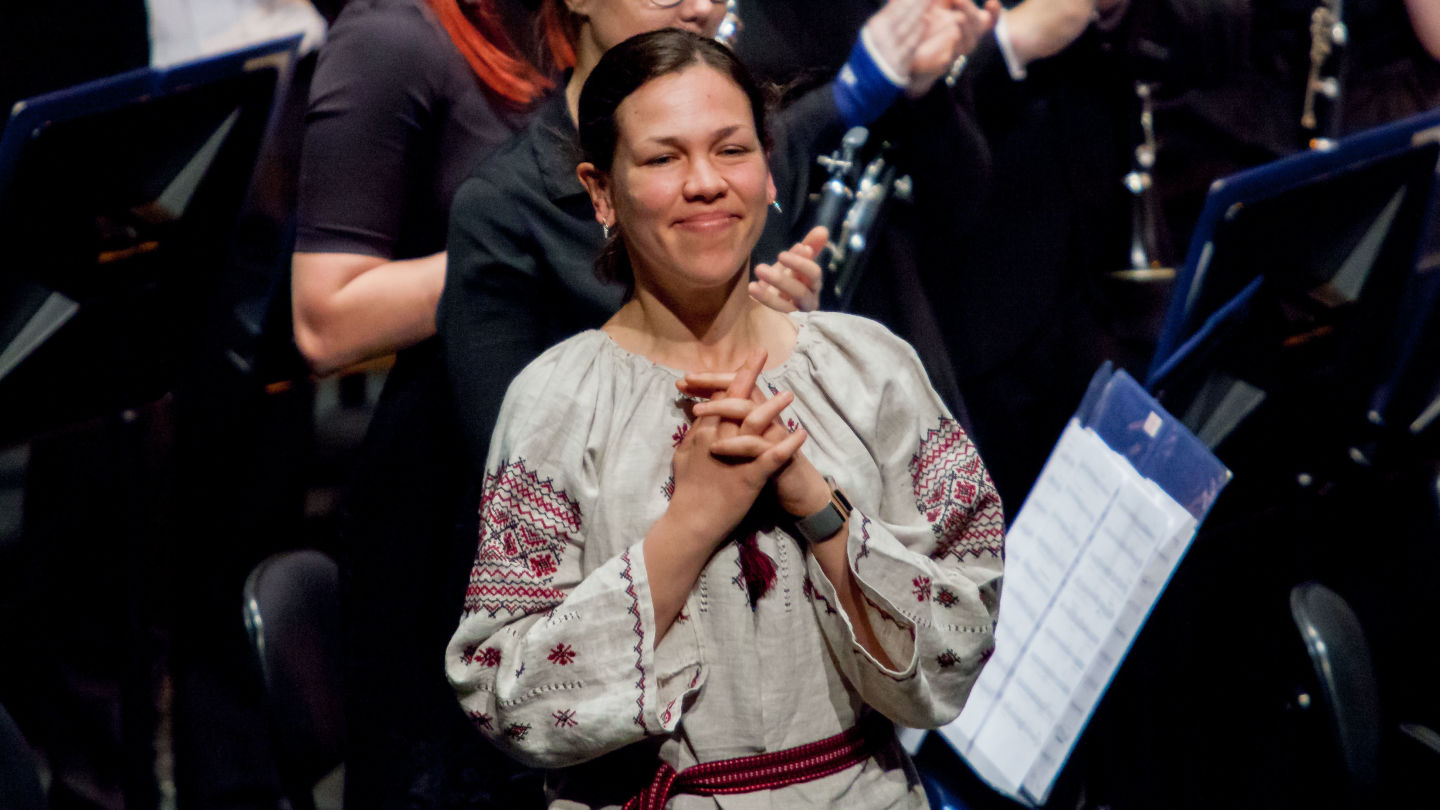 #Catherine Likhuta is an Australian-based Ukrainian composer, pianist, and recording artist whose music is known for its programmatic nature, raw emotions, intricate rhythms, and driving energy.
Her works have been hailed as highly complex yet immediately engaging.
We spoke with Catherine about her journey to becoming a composer, her compositional process, and the fascinating story behind her work Rituals of Heartland which we will perform in our upcoming Fantasy and Folklore concert.
Tell us your journey to becoming a composer.
I was born and raised in Kyiv, Ukraine in a family of musicians and was surrounded by music from birth. I studied classical and jazz piano from the age of five, through my childhood and for my undergraduate degrees. When I turned 12, my mum, then a children's piano teacher, asked me constantly to either compose or arrange short pieces for her younger students to keep them engaged. This was my first introduction to composing. During my MMus studies in piano performance, I composed several jazzy tunes for my college jazz ensemble and performed them with my friends. They loved my pieces; by no means were those the best pieces in the world, but to my friends they were because of the personal connection to the composer behind that music. I remember that the overwhelming encouragement and support from my peers was an amazing feeling which I wanted to keep experiencing for the rest of my life. That is how I decided to become a professional composer and started studying composition from that moment onwards.
How would you characterise your compositional language?
A healthy mix of my influences in life and music: a crossover between contemporary concert music with reliance on traditional forms (rondo, sonata, etc.), with jazz-inspired rhythms and harmonic structures, and with a hint of Ukrainian folk music spotted throughout. My writing is often programmatic; I enjoy telling musical stories and portraying a wide spectrum of emotions. And it has to be fun for others to play, which draws from my own decades-long experience as a performer. Many of my pieces are virtuosic, as I enjoy giving my performers an opportunity to grow while playing my works.
Who or what are the most significant influences on your musical life and career as a composer?
Dana Wilson and Steven Stucky, the two composers from Ithaca, NY, who coached me on my composing free of charge for over three years right after I came to the US in 2005. They both were wildly successful composers, and yet they managed to find the time in their busy schedules to help this new girl in town who didn't even know much English (we communicated through music at first, which was very special). I learned from them how to remain humble and giving while being a composer, no matter the level of success.
Composers whose music I performed as pianist and thought I was the luckiest musician in the world to be playing such cool pieces.
My great-grandmother, who introduced me to Ukrainian folk music and culture.
Pieces like Stravinsky's The Rite of Spring, in which I discover something new for myself every time I listen to it, no matter how many times I've already heard it. But also pieces that speak to me immediately, on an emotional level.
What's your compositional process like? Does an idea strike and you have to jot it down, or do you methodically work an idea into being?
It's a combination of both. I have been using a compositional tool I invented for myself, which I coined as "premeditated improvisation" in my PhD thesis. This process helps me connect with my musical thoughts on a deeper and more organic level. It most often requires a piano, even when I'm writing for any other instrument, although sometimes I use my voice or even just dictate into a voice recorder some verbal ideas for musical material. I record most of my musical ideas and then work on them methodically until I hear what I like. I almost always come up with the title of the piece I'm about to compose first. As a composer of programmatic music, that title serves as an inspiration for characters, mood, tempi and a whole range of parameters.
Tell us about the story behind Rituals of Heartland and what inspired you to write it?
A combination of my heritage, the excitement of writing for Melbourne Symphony Orchestra, and motherhood. Rituals of Heartland was commissioned by MSO as part of their CYBEC 21st Century Australian Composers Program. Statistics show us that music by female composers is still underrepresented in the Australian Major Performing Arts Companies programming. As a Ukrainian-born female composer, I was particularly excited about this opportunity to work with MSO and decided to involve my then four-year-old daughter Skylie in the creation of the piece. Together, we came up with a Ukrainian-inspired fairy tale which drew on folk tales from my own childhood. Skylie contributed characters to the story through drawings and paintings. It was magical. She was at the age where she could already draw recognisable things yet was not at all concerned with what the society thinks is pretty and what is ugly. She could just let her imagination run wild, and I loved that. Ultimately, in addition to the musical piece itself, I used this project as a time capsule for my four-year-old's creativity and innocence.
Experience Rituals of Heartland in our upcoming Fantasy and Folklore concert