Taking 5 with Guy Noble
Blog ·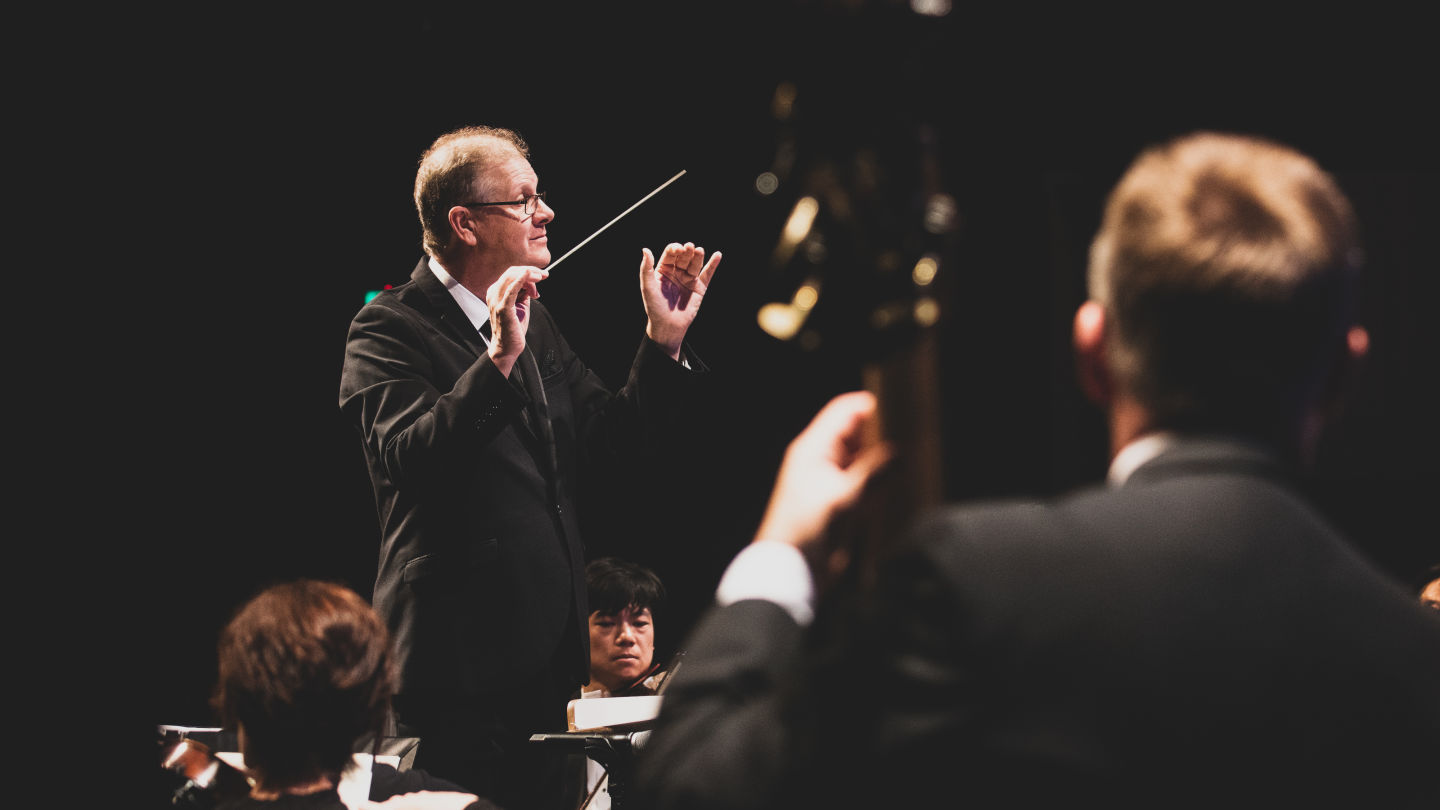 Guy Noble is our quick-witted Music on Sundays host and has worked with Queensland Symphony Orchestra since 1994.
Having conducted some of the best orchestras and performers in the business, Guy is the go-to guy (see what we did there) for making classical music fun and accessible. We sat down to talk conducting, his imaginary career as a comedian, and the ultimate 'Guy Noble' concert.
You've conducted so many QSO concerts. What's been your most memorable so far?
It is hard to pick one out because there have been so many amazing moments shared with the Orchestra on stages up and down Queensland. I still love the one in Cairns where we were playing the entire Beethoven Symphony No.5 after the interval. There was a local ABC Radio presenter who was introducing the concert, and he chose that moment to propose to his fiancé. Then I entered the stage and we started the ominous opening notes of the Beethoven. I had to stop after a few bars and make the comment that Beethoven's 5th wasn't perhaps the best piece of music to celebrate a new engagement. Everyone laughed and then we got on with the music. I was right however, some six months later they split up. If it had been the Wedding March from Mendelssohn's A Midsummer Night's Dream they might still have been together.
If you weren't working in classical music, what would you be doing?
Good question. I probably would have been in comedy. I have loved laughter all my life, and have been lucky enough to add humour to my other great love, music. It was only at the beginning of this year that I thought I would try straight stand up – a five minute set at the Comedy Store in Sydney, without the security of an orchestra behind me. It's one thing to amuse in a concert when it is not expected, another thing to deliver five minutes of jokes when the audience requires that you be funny. I was more nervous in front of 150 people than I have been for years in front of thousands in concert halls, but fortunately they laughed, and it was a very sweet sound.
If you were to put together the ultimate 'Guy Noble' concert, what would the repertoire be?
There are quite a few pieces of music that I would love to conduct for the first time, or indeed do again. I don't even need to do entire symphonies, just some favourite moments. The final movement of Shostakovich 5 for instance. That gives me goosebumps. The final movement of the Pines of Rome (which I actually did conduct once with QSO) is another super-favourite. The last movement of Janacek's Sinfonietta would also be a blast with its 14 trumpets and flourishes and fanfares (obviously I quite like final movements).
When you're not conducting, presenting and hosting, what are you doing?
I have had quite a lot of time to discover this during the pandemic. After my last concert for Opera Australia at the Opera House on 15 March, like the rest of the performing arts community I simply stopped doing anything. It was a great shock to the system to be shut down and prevented from working and engaging with audiences. I spent the first few weeks just watching the news and drinking wine, and then gradually took the opportunity to go for long walks. I also put my kayaks down closer to Sydney Harbour and went for long paddles avoiding the odd ferry that passed like the Flying Dutchman, empty of passengers. Sometimes my daughters Hayley and Lucy would join me and we would paddle to the beach below Taronga Zoo. One day a seal surfaced right next to me and I nearly capsized in fright. I did a few online videos for fun – QSO's Babyshark, Craig McAlister Young's Controlled Chaos and also one for West Australian Symphony Orchestra. I sorted out boxes of old CDs and started to use the time to write, although it was hard to feel creative when the world looked like it was falling apart. My father died in early March just before the shutdown, so I also spent a huge amount of time engaging with Centrelink and Aged Care, trying to navigate forms of the most astounding complexity. The only good thing I can see about dying is that you are not around to have to sort out your own paperwork.
If you could share a meal with any composer, dead or alive, who would it be and why?
I would love to meet Erik Satie. I would sit in Le Chat Noir with a glass of wine while he played the piano and then later that evening perhaps accompany him on his long walk home across Paris, from Montmartre to Arcueil, past Notre Dame. He seemed to have a wonderful sense of humour, so I am sure the conversation would flow naturally, even though my French is almost non-existent.