William Barton and Queensland Symphony Orchestra in epic world premiere event
Media Release ·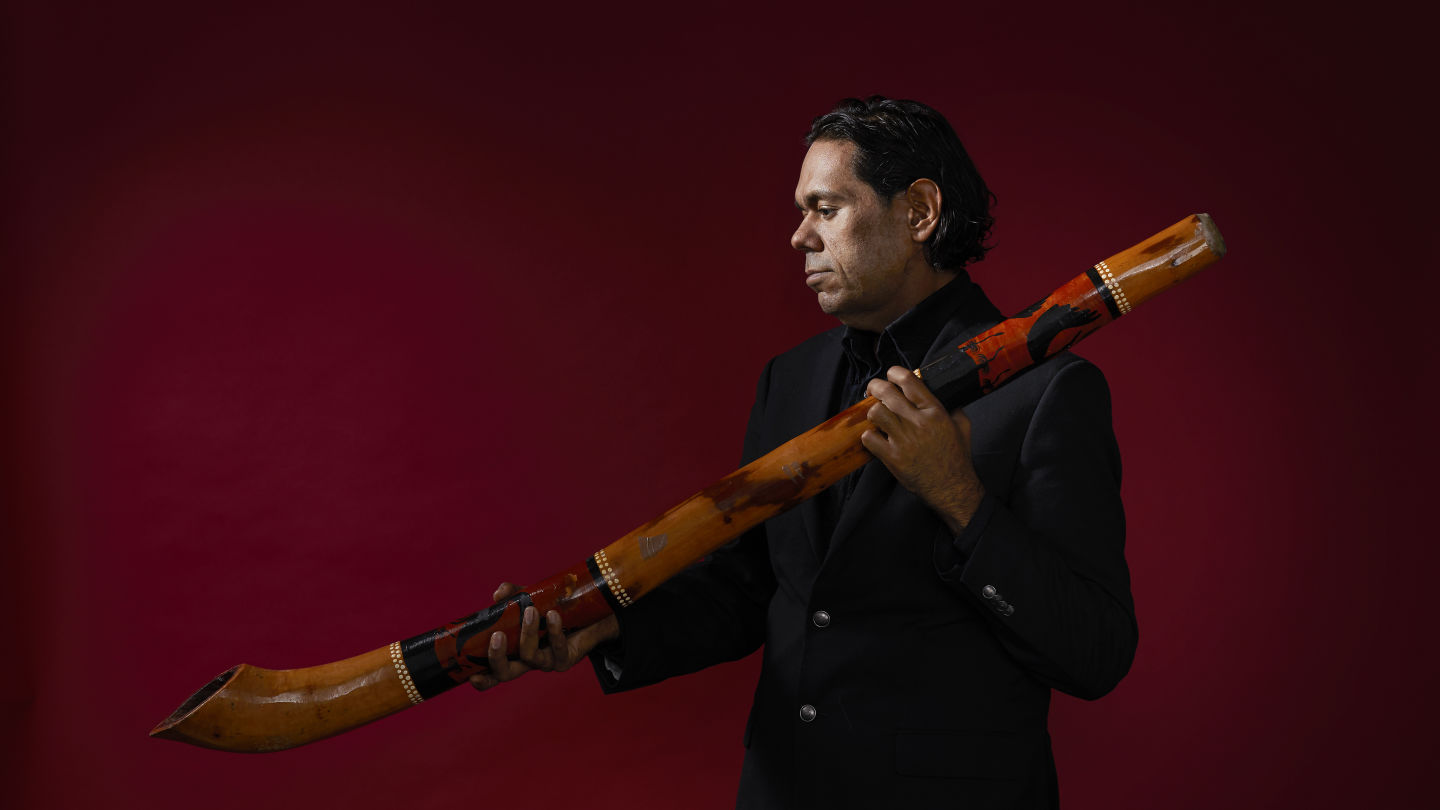 At 17, William Barton thought he had realised a lifelong dream when he was invited to perform with Queensland Symphony Orchestra (QSO). Just over 20 years later, this proud Kalkadunga man, ARIA-award winner and distinguished artist of extraordinary musicality will once again perform with QSO in two powerful concert events, performing the world premiere of his new work, Apii Thatini Mu Murtu (to sing and carry a coolamon on country together).
Barton is a virtuoso performer of the didgeridoo and a renowned composer of the highest acclaim who just last month was given the prestigious Australia Council Don Banks Music Award for outstanding and sustained contribution to music in Australia. His music-making and storytelling career has taken him to the world's leading concert halls, landmarks and cities; but it's in Brisbane, and with QSO that he has chosen to unveil his new work, a piece that represents the internal lullaby of humanity.
To be performed with the full orchestra, Apii Thatini Mu Murtu will see Barton use his famous didgeridoo, voice and guitar to, "welcome the audience into my musical world, and into the musical world of QSO."
"Music is at the forefront of storytelling and global connections, and the first music so many of us hear is the lullaby, regardless of our cultural background. This piece is about reconnection – to our language, to our cultures, to each other and the world we live in."
"I have composed Apii Thatini Mu Murtu as a legacy piece; one that can be played by professional orchestras right around the world, but also in local communities across Queensland and our country. It celebrates our unique Australia sound, it's a travelling piece for story music."
Being performed alongside Barton's important world premiere is Verdi's Overture to La forza del destino which features an extraordinary moment for harp, in a fitting farewell for QSO's Harpist Jill Atkinson after 47 years with the Orchestra, and the mighty Fifth Symphony by Sibelius.
#Learn more about Epic Sounds
For media interviews, imagery and more, please contact Kath Rose on kath@kathrose.com or 0416 291 493.