Supporters
Australian Decorative & Fine Arts Societies (ADFAS) Brisbane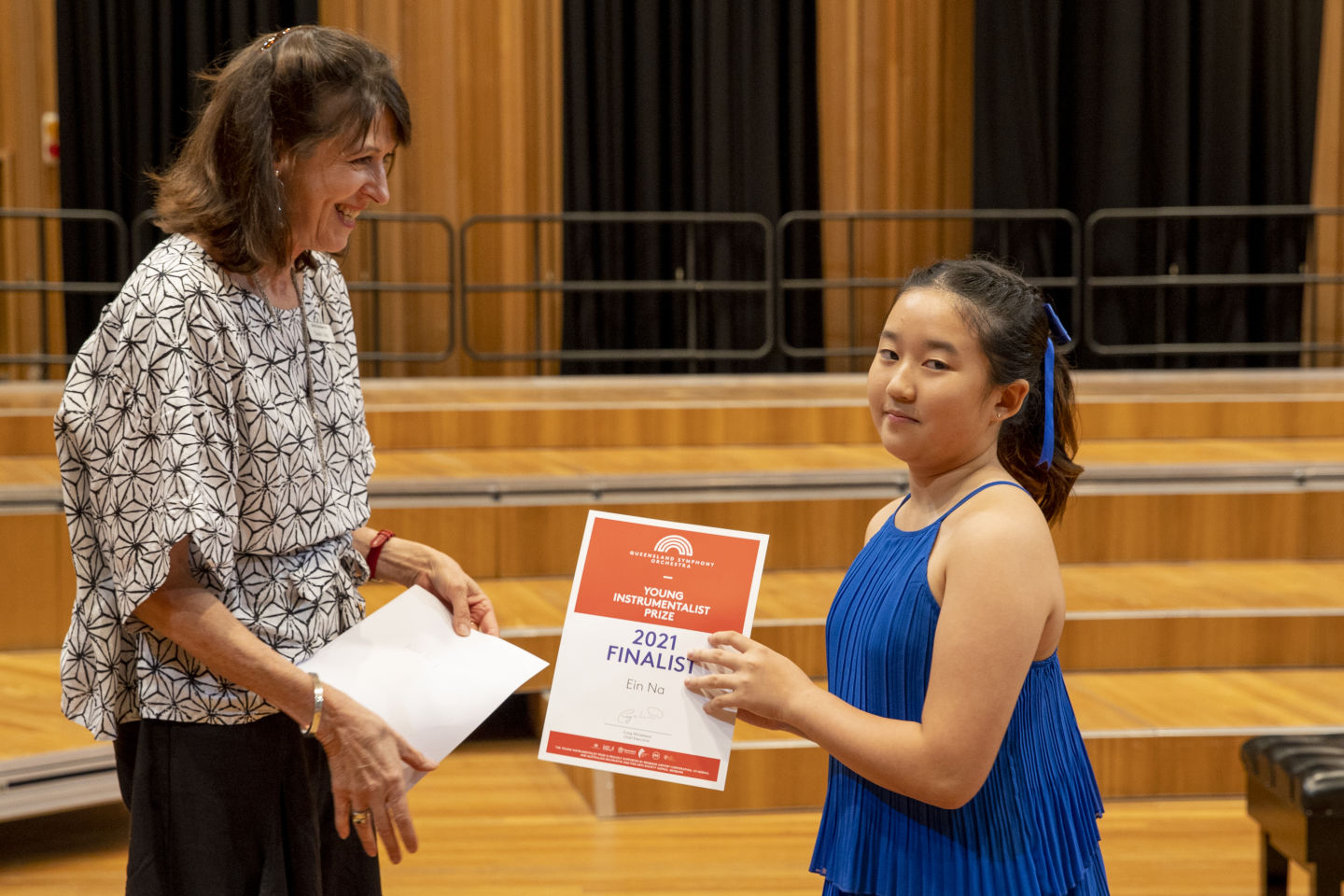 Mrs Susie Craig, Chairperson ADFAS Brisbane pictured with Young Instrumentalist Youth Finalist 2021, Ein Na.
ADFAS Brisbane is a dynamic and friendly society where members and guests gather to hear experts in the Arts talk on a wide range of topics. ADFAS support selected emerging musicians, dances and artists – the funding empowers young artists through mentoring to optimise their potential.
How has the Queensland Symphony Orchestra impacted on you?
The Australian Decorative and Fine Arts Societies (ADFAS) organises functions, lectures and displays to enable their members to explore and enjoy their interest in the arts. These activities are designed to generate sufficient funds to enable ADFAS to sponsor selected emerging musicians, dancers and artists. The intent is to support opportunities for young artists to receive the mentoring and experience that they need to optimise their potential.
Jann Scott of ADFAS Brisbane, shared recently "I have been introduced to the QSO through my role as Young Arts Coordinator for the Brisbane ADFAS Group. It has been wonderful working with the Development Team to organise support of young and emerging artists. I have been able to attend some rehearsals and junior competitions run by the QSO and have been very impressed with the talent and enthusiasm of the young Instrumentalists we have in Queensland.
It has been rewarding watching the growth of the young students we have supported over the years. Witnessing the result of their countless hours of study and hard work to master their chosen instrument has been rewarding to myself and the ADFAS members at large. This interaction has increased my interest in all of QSO's activities."
Why is it important to support QSO?
The members of ADFAS Brisbane recognise the importance of supporting the development of young musicians and are proud to contribute to the Young Instrumentalist Award. Our Members support raffles at our monthly lectures allowing us to sponsor young artists to further their instrumental programs and providing access to mentors to help them achieve their goals and dreams. This year the pandemic has restricted their usual activities and so video links have been set up with mentors and other students to help develop their skills.
What advice for people who want to consider supporting the QSO?
We have found that our support of QSO has provided great satisfaction and joy to all our members knowing that we are making a difference. We encourage everyone to consider how they can support QSO too.
Read about more of our wonderful supporters