Craig Allister Young
Cello
Music Chair supported by:
Di Jameson OAM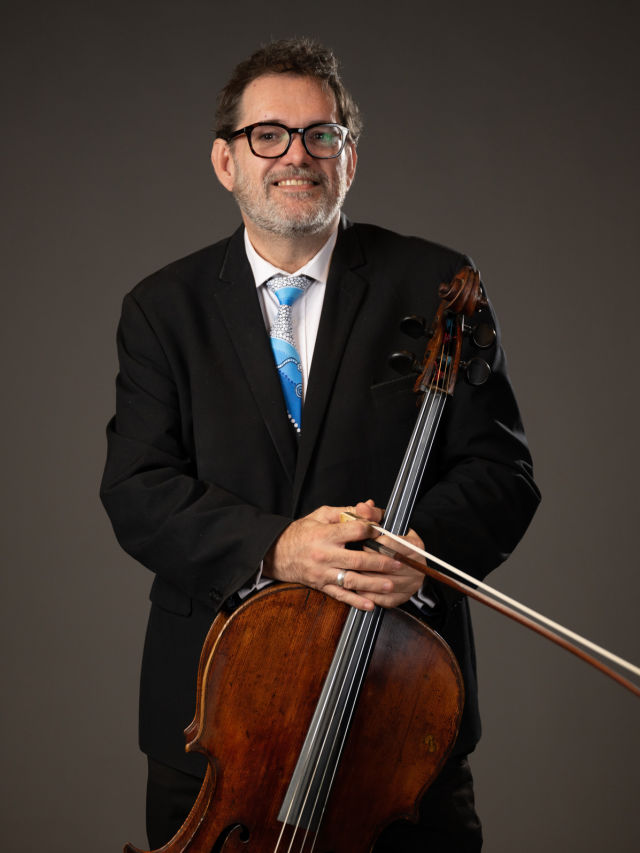 Craig Allister Young is a cellist with Queensland Symphony Orchestra. For the past 30 years he has also been writing, arranging and orchestrating music for orchestras, chamber ensembles and choirs around the country. He has an extensive library of classical and popular music for chamber and symphony orchestras that is now housed with the QSO.
Apart from this Craig has written for events at Dreamworld, RMIT, Couran Cove and is often asked to supply music for the Lord Mayor's Christmas Carols and Spirit of Christmas. A highlight of his career was being asked to write and record music for the 2000 Olympics featuring singer Christine Anu.
Craig has always had a strong presence with Queensland arts organisations. From 2009-2012 he orchestrated four ballets for Queensland Ballet and conducted from the cello. Leading up to this he had a highly successful cabaret ensemble, X-Collective that toured for 10 years with the Queensland Arts Council, as well as recording a CD and performing at the 2010 Mardi Gras in Sydney. For the past 10 years Craig has been musical director for Brisbane's largest choral concert "Brisbane Sings" which he co-produces with singer David Kidd and the Queensland Show Choir. In 2015 he arranged Rossini's Marriage of Figaro for Opera Queensland for a small touring ensemble of eight people which was performed at numerous venues around the state in 2015.
In 2011, Craig indulged his other passion by applying for Masterchef in which he made it into the top 24 contestants. Since then he has used his spare time to cater events, design and bake celebration cakes and produce cooking/music videos.
Since 2018 he has worked with song-writer Donna Dyson for their label Spotty Kites, producing music, songs and shows for children, including a Christmas show being performed with QSO, Symphonic Santa.
In secret Craig has often performed as Santa at the Lord Mayor's Christmas Carols and once orchestrated music for a slot machine.