Sarah Meagher
Associate Principal Oboe
Music Chair supported by:
Sarah and Mark Combe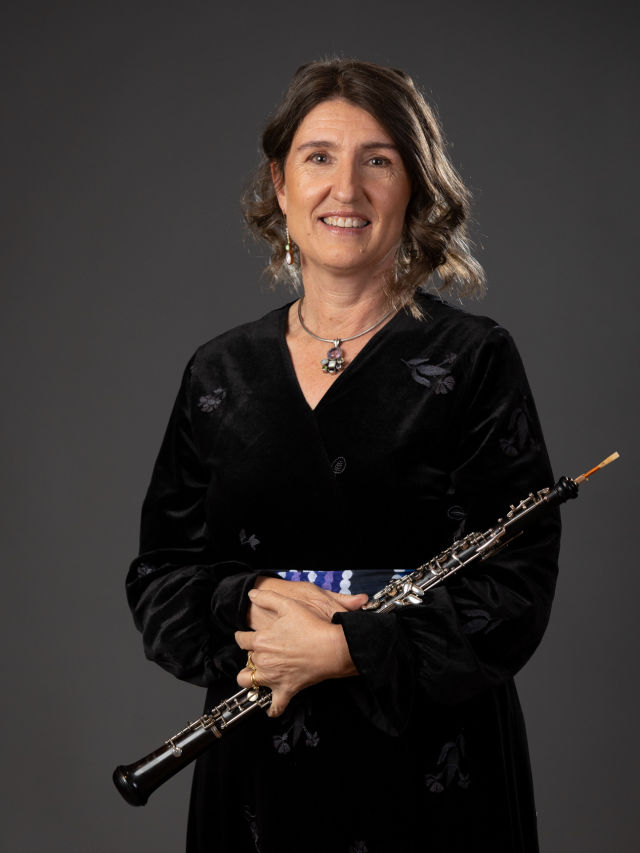 Music has marked every significant life event if I am to look back. Much of what I treasure is connected with music.
Early memories of my father singing at dinner parties, my mother crying singing Christmas carols, playing compilation CD's of favourite music to my father in his last days of life. The music at my wedding was all significant pieces that had some sort of connection from the past. I have memories of the music I sang and played to my children in their infancy to calm them, piano music that I melt listening to as I remember ballet classes taken as a child with a real pianist in class.
I started playing the recorder aged 10 by working my way through a beginner's book on route between Adelaide and Sydney during a family holiday road trip. A wonderful recorder teacher was found on our return who played endless duets with me, really making music fun.
My father came home from a furniture auction with a bassoon and an oboe when I was 12. I was given the oboe with assurances about its beautiful sound. A recording of Piere Pielot performing an Albinoni oboe concerto was played leaving a great impression. It was to be the first concerto I performed with an orchestra a few years later.
I was fortunate to attend a special interest music high school where I was privileged to continue recorder lessons with Lynton Rivers who nurtured an enduring passion for early music. My oboe lessons continued alongside, with a scholarship to study with Yiri Tancibudek. My first goose bump experience was had playing Sibelius' Symphony No.2 with the South Australian Youth Orchestra. The sound of the horns on the last page left me unable to play for a few bars. Many great musical moments were to come with Mahler's Symphony No.1 and Stuart Challender, National Music Camp and Shostakovich's Symphony No.11 with John Hopkins, Australian Youth Orchestra Mahler's Symphony No.6, and most importantly Queensland Youth Orchestra with whom I toured to China, Japan and the USA a wonderful program. It is hardly surprising this music has remained some of my most favourite music.
I have a Bachelor of Music in Performance from the Elder Conservatorium and a Graduate Diploma in Performance from the Queensland Conservatorium, studying with Barry Davis. I began working with the Queensland Philharmonic in 1989 as Principle Oboe and have played many concertos during my time with the chamber orchestra. I joined Southern Cross Soloists in 1996 and enjoyed five years of exciting music making, touring extensively across Canada, the USA and Australia.
I have remained passionate about the recorder to this day and have recently appeared with the Badinere players.
I have played Principal Oboe with QSO since 2000 and more recently Associate Principal. I really enjoyed the repertoire expansion since coming from the chamber orchestra. I have very fond memories of Johannes Frtizsch conducting Strauss' Symphony Domestica and Eivind Aadland in Mahler's Symphony No.4.
My favourite piece of music
Sibelius' Symphony No.2 remains a favourite piece as it was my first experience of a big symphony orchestra. The opening pulsating string motive makes me think of waves. Of course there is also a most beautiful oboe solo in the 2nd movement.
As far as Oboe pieces, the Vaughn Williams is a piece I keep coming back to. I think I was lucky to have experienced learning this piece with Barry Davis who is English himself and he really demonstrated a freedom in interpretation not heard with many European recordings. In the last movement Vaughn Williams refers to an old English folk song called 'The Last Rose of Summer'.  My father could be heard singing this in the shower of a morning.