Chantel Chen wins the Queensland Symphony Orchestra's prestigious Young Instrumentalist Prize 2022
Media Release ·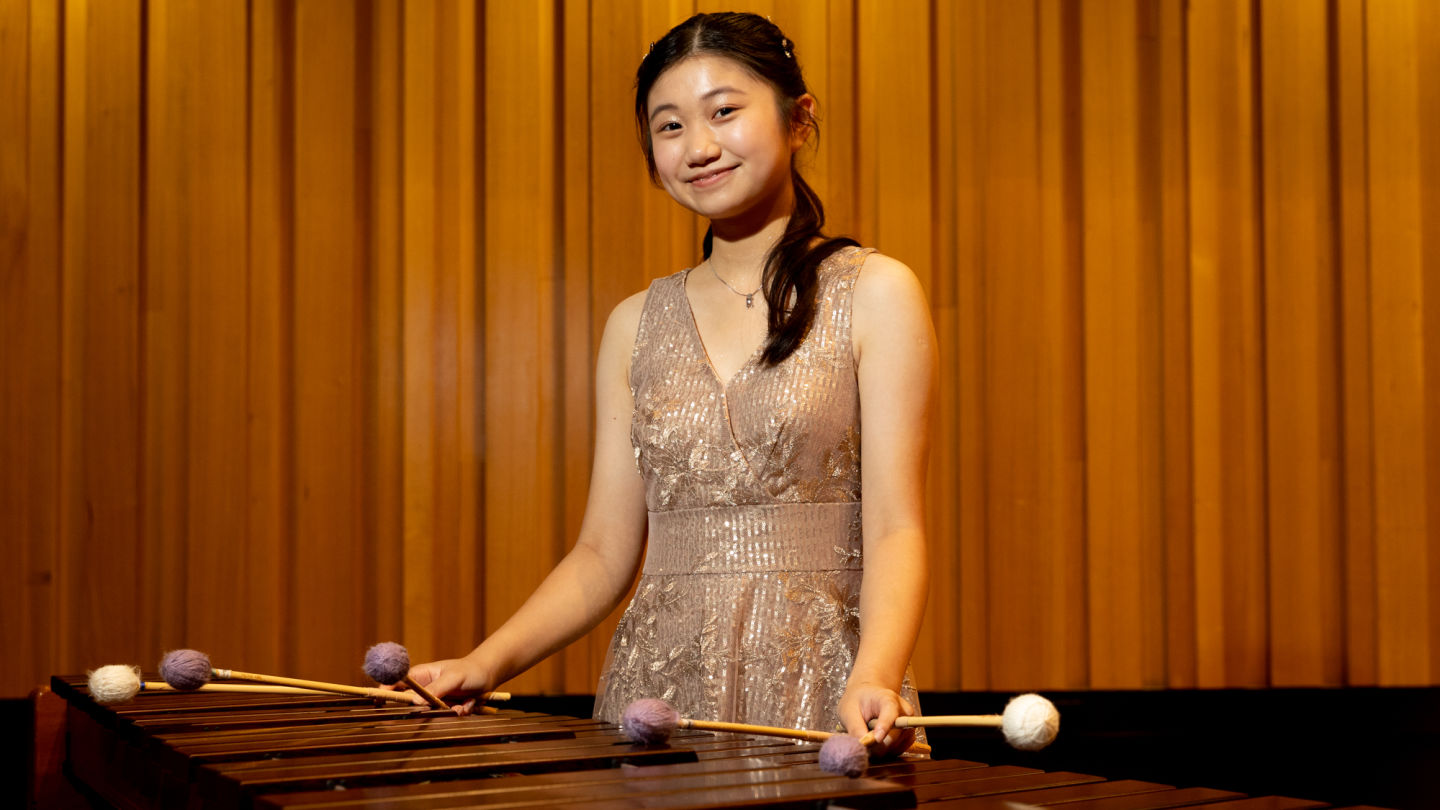 Chantel Chen has won the prestigious 2022 Queensland Symphony Orchestra's Young Instrumentalist Prize, playing not a violin, viola or a cello, but the marimba!
Out of 37 incredibly talented young musicians who auditioned for the prize, seven finalists performed last night in a wonderful reflection of the musical talent emerging in Queensland. It was a night for percussion as Brisbane State High student Chantel emerged victorious after performing Keiko Abe's dynamic Prism Rhapsody.
Chantel began her percussion journey 12 years ago, since then she has won awards as both a soloist and a chamber musician in national competitions such as Musica Viva's Strike a Chord chamber music competition, Australian Percussion Eisteddfods and Queensland Percussive Arts Eisteddfods. Recently, she has also participated and won internationally, and has been recognised as a semi-finalist for the Southern Californian Marimba Competition.
This year marks QSO's 75th birthday, and the 23rd iteration of the Young Instrumentalist Prize. It is an important event in the Queensland Symphony Orchestra calendar, as it provides opportunities for young instrumentalists to hone their talent and provides a platform for those excelling in their practice. Each finalist receives a cash prize and mentoring opportunities, and the winner will work with QSO in 2022.
The Young Instrumentalist Prize is proudly supported by Brisbane Airport Corporation, CP Morris, and Australian Decorative and Fine Arts Societies (ADFAS), Brisbane.
The magnificent seven finalists were:
WINNER
Chantel Chen, marimba
From Brisbane State High School - performed Keiko Abe, Prism Rhapsody
EQUAL 2ND PRIZE
Leonardo Lynch, violin
From Brisbane Boys College - performed Antonin Dvořák, Violin Concerto in A minor Op.54, Mvt 1
Ivy Han, cello
From Somerville House - performed Edward Elgar, Concerto in E minor Op.85, Mvt 4
FOURTH PRIZE AND 2022 VIOLIN LOAN AWARD
Sophia Jones, violin
From Brisbane State High School - performed Sergei Prokofiev, Violin Concerto No.2 in G minor Op.63, Mvt 1
FIFTH PRIZE
Nathan Kim, alto saxophone
From Brisbane Boys College - performed André Waignein, Rhapsody, Mvt 1 & 2
SIXTH PRIZE
Haydn Li, viola
From Canterbury College - performed Cecil Forsyth, Concerto in G minor, Mvt 1
SEVENTH PRIZE
Sterling Hall, cello
From Grace Lutheran College, Rothwell - performed Robert Schumann, Cello Concerto in A minor Op.129, Mvt 1
For information, interviews and imagery please contact Kath Rose for Queensland Symphony Orchestra on telephone 0416 291 493 or email kath@kathrose.com