William Barton and Queensland Symphony Orchestra anounce warrma piipa
ngatji patija; kutu patija; ngata waru (Songbook: My Story; Your Story; Our Journey)
Media Release ·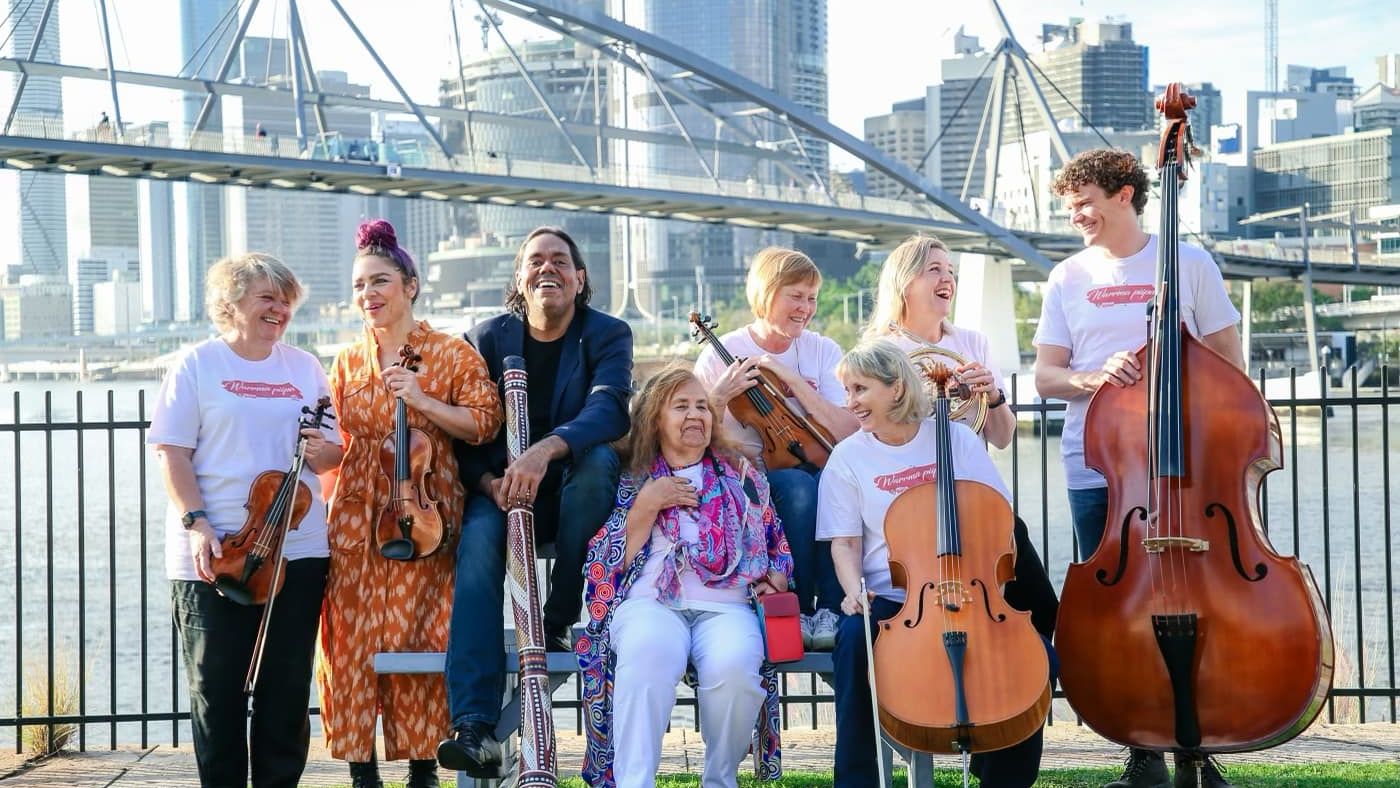 Acclaimed First Nations musician, longtime Queensland Symphony Orchestra (QSO) friend and the world's foremost didgeridoo player, William Barton has partnered with the Orchestra in an extraordinary new project which seeks the next generation of storytellers and song-makers to collaborate and express a Song to Country.
warrma piipa: ngatji patija; kutu patija; ngata waru (Songbook: My Story; Your Story; Our Journey) is a unique and ambitious multi-year, multi-artform project that weaves stories, language, song, music and creative expression into a cross-Queensland Journey composition.
This Journey commenced in William Barton's ancestral Country of Mount Isa/Kalkadoon last month where Ceremony was held to open the collaborative circle with QSO. It will continue with William and the QSO visiting communities including Cairns/Yarrabah, Rockhampton/Woorabinda, Gold Coast/Yugambeh, Charleville/Bidjara, which is William's Mother's Country and finally, to close the circle of the warrma piipa (Songbook), Ceremony back in Mt Isa/Kalkadoon.
Imagery and vision of Ceremony at Mount Isa/Kalkadoon and in Brisbane/Meanjin here
QSO Chief Executive Yarmilla Alfonzetti, who accompanied William and his mother Aunty Dalmae Barton, to Mount Isa for the Ceremony to begin the Journey, said warrma piipa (Songbook) was a pivotal imprint for the company.
"As our journey deepens and ultimately gains momentum, we have made a pledge to lead with compassion, to listen closely, and to find ways and places in all that we do for our First Nations kindred spirits to become part of QSO evermore," she said. "We are fortunate to have William Barton lead us in this extraordinary partnership."
"William has expanded the horizons of the didgeridoo and communicated a cultural landscape though music and song to audiences across the country and across the globe his whole life. He's also had a 25 year relationship with QSO, which started when he was just 17 years old, and was invited to perform with the Orchestra. This richness of history is the foundation needed for warrma piipa (Songbook)."
"Travelling and working alongside William, making music and visiting communities to find the next generation of First Nations storytellers and song-makers will be one of the most powerful experiences we will all have, and we are committed to ensure it lasts for generations to come."
William said warrma piipa was a pathway to change.
"We are in a time of great change and process, and warrma pippa is how I am using my voice together with the sonic force of the Queensland Symphony Orchestra, plus the intimacy of individual instruments to represent ideas and interpret the legacy of landscape, and the hope and potential of those who live on it."
"In creating the warrma piipa project, I acknowledge those aunties, uncles, grandfathers and grandmothers and I acknowledge my mother and father for creating a safe space, a pathway of connection and nurturing the next generation of cultural and musical ambassadors between our two worlds."
"I see warrma pippa as like the kangaroo sinew or twine, it symbolises fragility but also strength, and the importance of the lullaby between different nations, this is the significant of warrma pippa, in bringing together two worlds, to work together and find new artists for the next generation."
"I am humbled by this moment, to share my journey and ideas with my community of Kalkatungu, and so many communities across Queensland – this is the power of the Message Stick we are using, it will record what we cannot. This is a breathing and living time capsule of legacy for the future - and ceremony is the most important to connect all nations of the future. warrma piipa is my story, your story, our journey. "
About warrma piipa: ngatji patija; kutu patija; ngata waru (Songbook: My Story; Your Story; Our Journey)
Ceremony has opened, and will close the circle of the warrma piipa (Songbook) initiative. In between, communities will be engaged to connect, perform and record and await the final stage; Ceremony. Community members are invited to join the journey and participants will learn from William and QSO musicians, discovering individual and collective pathways and journeys.
A collaboration of performing and visual arts workers, (a community of musicians, dancers, vocalists and artists) will then be invited to travel to Mount Isa for the final gathering - warrma piipa (Songbook) Corroboree.
This closing Corroboree will include musical performance and song and dance from each of the five communities. A collaboration of visual artists will create a canvas to celebrate and represent warrma piipa (Songbook), enabling the message to be passed across the landscape in a songline of woven stories, language, song and music.
Bringing modernity to an ancient instrument – Message Stick with technology
A set of warrma piipa clap or message sticks, the traditional percussive instrument for song, dance and ceremony, will be gifted to participating communities by William as an invitation to the final Corroboree.
Crafted from gidgee (Acacia cambagei) wood from Mount Isa (used by the Kalkadoon people to also make nulla nulla, shields and boomerangs), the message sticks carry artwork by Kuku-Yalanji artist Jeremy Donovan, who recently interpreted the QSO in a major artwork as a part their Reconciliation Action Plan and cultural journey, and Kalkadunga language.
The message sticks have been given a modern representation: within them is a USB to record each community's contribution to the project and enable tracking of the Journey.
William Barton and Queensland Symphony Orchestra
William Barton is a proud Kalkadunga man, ARIA-award winner and an internationally distinguished artist of extraordinary musicality. At 17, he realised a lifelong dream when he was invited to perform with the QSO. Further partnerships with the Orchestra grew, involving performances, recordings and new works written for, and by, William, including the world premiere of Apii Thatini Mu Murtu (To sing and carry a coolamon on country together).
His music-making and storytelling has taken him to the world's leading concert halls, landmarks and cities; but it's his home country and his home Orchestra that William has chosen for warrma piipa (Songbook).
He tells of his youth: "What I remember so clearly from my uncle is him telling me that the didgeridoo is a language. It's a speaking language and like any language, it's something that you've got to learn over many months, and many years. It's got to be a part of you, and what you do."
After William's Uncle passed, he said: "I was given the special privilege by his family of holding onto his didgeridoo, which is quite a rare honour in Aboriginal culture because when an old song man passes away, they usually put the didgeridoo to rest, to silence the sound forever, and the next ambassadors keeps the spirit alight through fire of the night and the legacy of lullaby and landscape."
For media interviews, imagery and more, please contact Kath Rose on kath@kathrose.com or 0416 291 493