Music Chair Supporter by:
Penny Gordon OAM and Dr Suzanne Whitehead in memory of Marjorie Gordon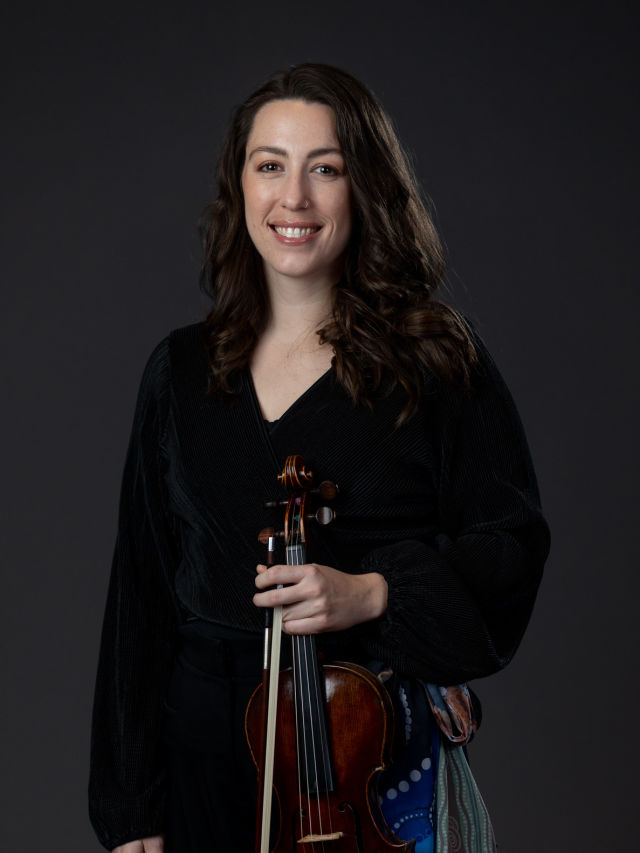 ​Sonia Wilson began learning the violin at age seven once she realised it always played the melodies in the ballets she grew up watching on VCR.
She studied with Graeme Jennings at the Queensland Conservatorium before completing a masters with Goetz Richter at the Sydney Conservatorium.
Sonia has a great love for chamber music and was a founding member and first violinist of the Geist String Quartet from 2015 to 2019. The quartet was awarded the Westheimer Fellowship, E.V. Llewellyn Memorial Award and the Mary Vallentine Award, and toured both nationally and internationally; performing at the Musica Viva Festival in Sydney, the St Lawrence String Quartet Chamber Music Seminar in Stanford, USA, the Orford Music Academy in Quebec, Canada, Internationale Sommerakademie für Kammermusik Niedersachsen in Germany and the Luberon International String Quartet Festival as part of a ProQuartet professional training course in France.
Sonia has a keen interest in contemporary classical music and in 2018 travelled to Germany to attend the Darmstadt International Summer Course for New Music, performing works by György Kurtág, Elliott Carter and Holly Harrison. She has guested with a number of contemporary ensembles including Topology, Sirius Chamber Ensemble and Rubiks Collective, who she joined for their 2018 international tour.
Sonia has worked with orchestras all over Australia, including Queensland Symphony Orchestra, Opera Australia Orchestra, Western Australia Symphony Orchestra, Melbourne Symphony Orchestra and AYO's Momentum Ensemble. In 2018, she was an Emerging Artist with Australian Chamber Orchestra and a member of ACO Collective and in 2019 joined Australian Chamber Orchestra for one of their national tours. In November 2019, she began a full-time position as tutti first violin with Queensland Symphony Orchestra.