Music Chair supported by:
Tony and Patricia Keane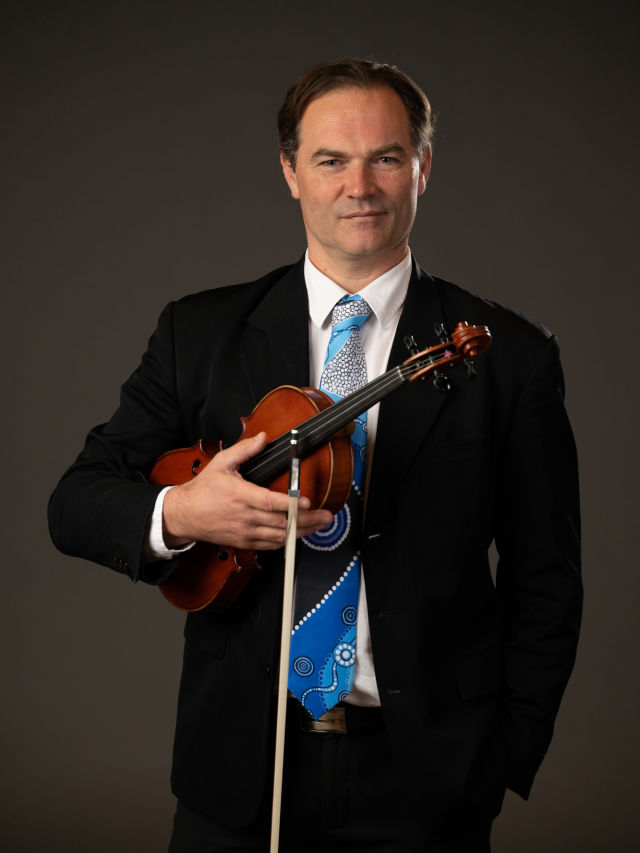 Coming from a musical family, music has always been a part of my life. The importance of music has become more apparent to me since having my son three years ago. The smile on his face at every concert he has come to reminds me why I do what I do.
My future as a violinist was almost guaranteed as both my parents are violin teachers. I started with them at the age of four, studying the Suzuki Method. At the age of 12, I continued with Beryl Kimber at the Elder Conservatorium in Adelaide. After graduating from high school I moved to Melbourne studying with Spiros Rantos, firstly at Monash University and then the Melbourne Conservatorium. In my second year of University I decided I wanted to do more playing than studying. I rang the Melbourne Symphony for an audition and within two weeks I was on their casual list and my career had started. Since then I have worked with the Melbourne, Adelaide, Tasmanian and of course the Queensland Symphony Orchestras as well as on numerous musical theatre productions.
I would always listen to Itzhack Perlman and Joshua Bell recordings for my solo playing but have also loved playing tango, jazz and funk. Some of my favourite concerts/gigs have been playing Jamiroquai, Stevie Wonder and Piazzolla
My career highlights with the QSO are when I have been very fortunate to be able to step into the concertmaster position. The standout performance would have to be Swan Lake (there are lots of solos!) Most recently I played the solo part of the Piazzolla Four Seasons which, to date, has been the most personally rewarding concert I have ever taken part in.
Since I started with the QSO I have had an extremely varied experience. My official position is section First Violin but I have been given the opportunity to lead the Orchestra on a few occasions, play some solos (even one on a Violinophone and one on a half size violin playing Homage to Metallica by Mathew Hindson!) and go on a few tours as Acting Concertmaster.
Most recently I have filled the vacant Principal First Violin position.
My favourite piece of music
Piazzolla Four Seasons of Buenos Aires